Robert Smith
---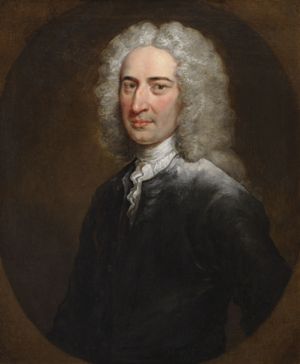 1690-1768. Mathematician and Master.
Smith was probably born at Lea near Gainsborough, the son of the rector of Gate Burton, Lincolnshire. After attending Queen Elizabeth's Grammar School, Gainsborough he entered Trinity in 1708, and after becoming minor Fellow in 1714, major Fellow in 1715 and senior Fellow in 1739, was chosen Master in 1742, in succession to Richard Bentley. From 1716 to 1760 he was Plumian Professor of Astronomy.
In February 1719 he was elected a Fellow of the Royal Society. In addition to editing two works by his cousin Roger Cotes, who was his predecessor in the Plumian chair, he published A Compleat System of Opticks in 1738, which gained him the sobriquet of Old Focus, and Harmonics, or the Philosophy of Musical Sounds in 1749.
Ill health, particularly gout, took its toll and severely inhibited his academic work and social activities. He never married but lived in the Master's Lodge with his sister Elzimar who is buried near him in the Ante-Chapel.
He died in the Master's Lodge and was buried in the Chapel, the funeral oration being delivered by Thomas Zouch. In his will Smith left £3500 South Sea stock to the University of Cambridge. The net income on the fund is annually divided equally between the Smith's Prize and the stipend of the Plumian Professor.
Robert Smith presented the statue of Newton to the College in 1755. He also gave £2000 stock to be applied by the Master and Seniors to public uses, also his books to the library, and busts and pictures to the Master's Lodge.
Cooper
Tombstone inscription
Translation

H.S.E. ROBERTVS SMITH S.T.P.

HVJVS COLLEGII MAGISTER

OBIIT FEB II MDCCLXVIII AETAT LXXIX
Here lies Robert Smith, D.D., Master of the College. He died on 2nd February 1768 at the age of seventy-eight.
Robert Smith

Buried in the sanctuary, main Chapel, to the right of the altar.