Sermons and Preachers
---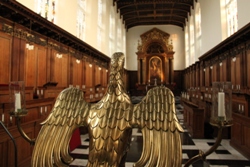 On this page you can find a list of this term's preachers, with brief biographies and links to their sermons (where available). There is also a link to our archive of preachers and sermons.
Sunday Evensong (6.15pm)
Michaelmas Term 2018:


Saints



7 October

The Dean of Chapel

Perpetua
14 October


The Revd Canon Jonathan Boardman
Vicar of St Paul's Clapham

Lawrence

21 October


The Revd Canon Victoria Johnson
Canon Residentiary, Ely Cathedral

Cecilia
28 October


Professor Brian Brock
Professor of Moral and Practical Theology, University of Aberdeen

A Stone-Throwing Saint

4 November


Professor Nicholas Vincent FBA
Professor of Medieval History, University of East Anglia

Thomas Becket

11 November


Mr James Penney
Alumnus; Chairman, Darwin Property Investment Management Ltd

Oscar Romero

18 November


Mr Philip McDonagh
former Irish Ambassador

Franz Jägerstätter
11 November


Address given by Sir John Tusa at the Remembrance Sunday morning Act of Remembrance and Mattins
Jonathan Boardman is vicar of St Paul's Clapham. He was previously Senior Tutor of the Anglican Centre Rome, Chaplain of All Saints' Rome and Priest-in-Charge of St Anthony Abbot Padova. He was educated at Magdalene College Cambridge and Magdalen College Oxford. He has written two books: Umbria: A Cultural History (2012) and Rome, a Literary and Cultural Companion (2006).
Victoria Johnson was the first woman to be appointed a Residential Canon at Ely Cathedral. Prior to that she was a parish priest in Manchester. With a PhD in Biochemistry, Victoria worked as a Cancer Research Scientist before training for ordination, studying theology at Cambridge and Yale universities with a special interest in Liturgy and Music. As an amateur musician she has sung in churches, cathedrals and chapel choirs and now conducts the Ely Cathedral Community Choir and sings with the Fairhaven Singers, a Cambridge-based chamber choir.
Brian Brock is Professor of Moral and Practical Theology at the Divinity School in the University of Aberdeen. He has an interest in medical ethics and the theology of disability as well as the ethics of technological development. His recent publications include Beginnings: Interrogating Hauerwas (with Stanley Hauerwas) and The Malady of the Christian Body: A Theological Exposition of Paul's First Letter to the Corinthians.
Nicholas Vincent is Professor of Medieval History at the University of East Anglia. He was previously at the universities of Oxford, Cambridge, Paris and Canterbury. He has published a dozen books and some hundred academic articles on various aspects of English and European history in the 12th and 13th centuries, the most recent being on King John. He was elected to the British Academy in 2010.
James Penney is a Trinity alumnus, having read languages and theology followed by four years doctoral research on politics and religion in Latin America. After Trinity he lectured in contextual theology at Westminster College Oxford for 7 years before leaving to go to London Business School. Since then he has established a number of businesses, first in strategy consulting, then helped set up a Microfinance bank in the Philippines of which he was vice Chairman for 7 years. Since 2007 he has been chairman of Darwin Property Investment Management, a fund management business.
Philip McDonagh is a former Irish Ambassador to India, Holy See, Finland, Russia and the OSCE. Before that he was involved in the Northern Ireland peace process. He is currently Adjunct Faculty at the Edward M Kennedy Institute for Conflict Intervention in Maynooth and Distinguished Global Fellow at the Center of Theological Inquiry, Princeton, where he is contributing to a five-year inquiry on religion and global concerns.