Sermons and Preachers
---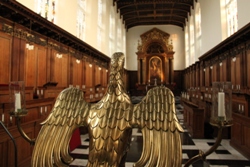 On this page you can find a list of this term's preachers, with brief biographies and links to their sermons (where available). There is also a link to our archive of preachers and sermons.
Sunday Evensong (6.15pm)
Easter Term 2018:


Easter Scenes



29 April • della Francesca The Resurrection


The Revd Canon Brian Mountford MBE
Fellow of St Hilda's College Oxford & Acting Chaplain of Corpus Christi Oxford

6 May • Holbein Noli me tangere


Professor Frances Spalding CBE
Emeritus Fellow of Clare Hall, Cambridge


13 May • Eric Gill Ascension


The Revd Canon Dr Alvyn Pettersen


Canon Theologian at Worcester Cathedral



20 May • Gaudier-Brzeska The Dancer


The Revd Helen Orr


Pioneer Minister, Michaelhouse, Cambridge



27 May • Bellini The Blood of the Redeemer


The Revd Professor Ben Quash
Professor of Christianity and the Arts, King's College London

3 June • Caravaggio The Incredulity of Thomas


The Very Revd Dr John Hall


Dean of Westminster



10 June • Caravaggio The Seven Works of Mercy


The Dean of Chapel




The Revd Canon Brian Mountford is a Fellow of St Hilda's College, Oxford, and Acting Chaplain of Corpus Christi College, Oxford. He was Fellow and Chaplain of Sidney Sussex College, Cambridge, before becoming Vicar of the University Church in Oxford from 1986 to 2016 and Chaplain of St Hilda's College. Canon Mountford is Publisher at Large for the 'Christian Alternative' imprint of John Hunt Publishing which seeks to promote radical theological ideas and to engage theologically with public issues.
Professor Frances Spalding is an art historian, critic and biographer. She read art history at the University of Nottingham and began writing pieces for the TLS, The Burlington Magazine and art journals while still a post-graduate. Her survey history, British Art since 1900, has been widely used in education, and in the mid-1990s she was commissioned by Tate to write a centenary history of the institution. Between 2000 and 2015 she taught at Newcastle University, becoming Professor of Art History, and acted as Editor of The Burlington Magazine, 2015–16. Frances is now is Emeritus Fellow of Clare Hall, Cambridge. She is also a Fellow of the Royal Society of Literature, an Honorary Fellow of the Royal College of Art and, in 2005, was made a Companion of the British Empire for Services to Literature.
The Revd Canon Dr Alvyn Pettersen is Canon Theologian at Worcester Cathedral where he has oversight for adult education, the cathedral library and responsibility for the partnership with the Cathedral Church in Magdeburg, Germany. Canon Pettersen was educated at Trinity College Dublin and Durham University before serving as Chaplain at Clare College Cambridge and then Exeter College Oxford. He was subsequently vicar of a parish in the Guildford diocese before moving to Worcester in 2002.
The Revd Helen Orr was a choral scholar at Magdalene College Cambridge, where she also read theology as an undergraduate. She spent many years travelling the world as a singer/songwriter before resettling in Cambridge with her academic husband. After serving as a Curate at St Andrew's Chesterton, she is now Pioneer Minister at Michaelhouse.
Professor Ben Quash read English at Peterhouse and then, as a second degree whilst in training for ordination at Westcott House, Theology. He was Chaplain and Fellow of Fitzwilliam College Cambridge and a lecturer in the Cambridge Theological Federation from 1996 to 1999, before returning to Peterhouse as Dean and Fellow until his appointment to King's College London as Professor of Christianity and the Arts in 2007. From 2004 to 2007 Ben was also Academic Convenor of the Cambridge Inter-Faith Programme, developing research and public education programmes in Judaism, Christianity and Islam and their interrelations.
The Very Reverend Dr John Hall was installed as the 38th Dean of Westminster in 2006. The Dean oversees the spiritual life of Westminster Abbey and gives leadership to the Abbey community. John Hall read theology at Durham University and, after two years teaching Religious Education at a school in Hull, trained for the ministry at Cuddesdon Theological College. He was a member of General Synod from 1984 until 1992 and was also an examining chaplain to the Bishop of Southwark. From 1992 he was Diocesan Director of Education in Blackburn and also a Canon Residentiary of Blackburn Cathedral. He worked in Westminster from 1998 as the Church of England's Chief Education Officer. As Dean of Westminster he chairs the governors of Westminster School and Westminster Abbey Choir School.