Sermons and Preachers
---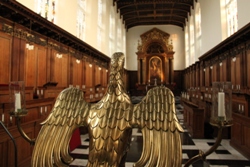 On this page you can find a list of this term's preachers, with brief biographies and links to their sermons (where available). There is also a link to our archive of preachers and sermons.
Sunday Evensong (6.15pm)
Easter Term 2019


The Good Society and ...



28 April


The Revd Canon Mark Poulson
Canon for Interfaith Relations, Diocese of London

Interfaith Relations



5 May

The Revd James Ridge
Chaplain General, HM Prison and Probation Service
Prisons


12 May


Cressida Dick

CBE QPM


Commissioner of Metropolitan Police Service

Policing


19 May



Dr Hugh Hunt
Reader in Engineering Dynamics and Vibration
& Fellow of Trinity College

The Environment



26 May


The Revd Dr Andrew Bowyer
Chaplain, Trinity College Cambridge

Borders and Exiles



2 June


Professor Stephen Toope
Vice-Chancellor, University of Cambridge

Universities



9 June


The Dean of Chapel


The Church and the Good Society


Mark Poulson is an Inter-Religious Affairs Adviser to the Church of England and has previously served as the Archbishop's Inter-Religious Affairs Adviser. Prior to this, Mark was vicar of St John's Church Southall, where his wife, Anna, is now the incumbent. Before ordination, Mark was a secondary school teacher in the West Midlands for nine years.
James Ridge was appointed as Chaplain General to HM Prison & Probation Service last year. He was educated at Exeter University before training for the ministry at Westcott House in Cambridge. After serving his curacy in the Chelmsford Diocese, he became a Prison Chaplain, first at Chelmsford Prison and then at Wayland.
Cressida Dick has 35 years of public service, the majority of which she has spent in policing. Her first ten years were spent in frontline uniform patrols/roles in the West End, South-West and South-East London. She has held leadership roles in each of the organisations she has worked in, the Metropolitan Police Service, Thames Valley Police, the National Police College and the Foreign and Commonwealth Office. Cressida has overseen a wide variety of high-profile and complex policing investigations spanning serious and organised crime, security and protection. Cressida was the first woman to be appointed a Metropolitan Police Assistant Commissioner in 2009. From 2011 to 2014 she was in charge of UK counter terrorism policing, leading operational security and counter terrorist operations for The Queen's Diamond Jubilee and the London 2012 Olympics. In 2014 Cressida joined the Foreign and Commonwealth Office senior leadership team. Cressida became Commissioner of the Metropolitan Police, the UK's largest police service, in April 2017. Cressida is former president of the British Association of Women Police and has a Master's Degree in Criminology from Cambridge.
Dr Hugh Hunt is Reader in Engineering Dynamics and Vibration and a Fellow and Keeper of the Clock at Trinity College. His research interests include railway noise and vibration, gyroscopes and boomerangs, and vibration of bell towers. His most recent research is in the fields of renewable energy and geoengineering, including the SPICE project – technology for cooling the Earth by 2°C if emissions targets are not met. Hugh was Lead Engineer in the television documentaries Dambusters, Building the Bouncing Bomb, Escape from Colditz, Digging the Great Escape and Attack of the Zeppelins. Hugh is a recipient of the Royal Academy of Engineering Rooke Award for the public promotion of engineering.
Professor Stephen Toope became the 346th Vice-Chancellor of the University of Cambridge in October 2017. He was previously Director of the University of Toronto's Munk School of Global Affairs (2015–17) and President and Vice-Chancellor of the University of British Columbia (2006–14). He served as President of the Pierre Elliott Trudeau Foundation (2002–06) and as Dean of Law at McGill University (1994–99). Born in Montreal, Canada, he studied History and Literature at Harvard, before earning degrees in common law and civil law at McGill University. He is also an alumnus of Trinity College, where he completed a PhD under the supervision of Sir Derek Bowett. In recognition of his service and accomplishments, in 2015 he was inducted as an Officer of the Order of Canada – one of Canada's highest honours.