Sermons and Preachers
---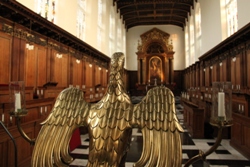 On this page you can find a list of this term's preachers, with brief biographies and links to their sermons (where available). There is also a link to our archive of preachers and sermons.

Sunday Evensong (6.15pm)


Lent Term 2017: The Seven Sacraments



22 January • Marriage

The Revd Professor Michael Reiss


29 January • Holy Orders


The Revd Anna Matthews





5 February • Eucharist

The Revd Dr Anna Poulson





12 February • Confirmation


The Bishop of Ely





19 February • Baptism

The Revd Ysmena Pentelow


26 February • Anointing the Sick

The Dean of Chapel

5 March • The First Sunday of Lent




A Service of Music and Readings for Lent




19 February • Confession

A.N. Wilson



Michael Reiss is Professor of Science Education at UCL Institute of Education, University College London, Visiting Professor at the Universities of Kiel, Leeds and York and the Royal Veterinary College, Honorary Fellow of the British Science Association and of the College of Teachers, Docent at the University of Helsinki and a Fellow of the Academy of Social Sciences. A graduate of Trinity College, Michael began his career at Hills Road Sixth Form College and then in the Department of Education at the University of Cambridge during which time he also trained to be a priest. He is President of the International Society for Science & Religion and of the International Association for Science and Religion in Schools. Recent publications include: Enhancing Learning with Effective Practical Science 11–16, edited with Ian Abrahams (Bloomsbury 2017) and An Aims-based Curriculum, with John White (IOE Press 2013).
Anna Matthews has been Vicar of St Bene't's since 2012. She was ordained in 2003 and served a curacy in the diocese of St Albans, before going to work for six years at St Albans Cathedral. She enjoys being back in Cambridge, where she read theology at Robinson College, and also did her ordination training at Westcott House. As well as being Vicar of St Bene't's, she is Diocesan Director of Ordinands and an honorary Canon of Ely Cathedral.
Anna Poulson became the vicar of St John's Southall Green in January 2015, a thriving church in a vibrant multi-cultural and multi-faith area of West London. Anna studied theology at University College, Durham, and King's College, London; she trained for the priesthood at Ridley Hall in Cambridge. Her husband, Mark, is the Archbishop of Canterbury's Adviser for Inter-Religious Affairs, and much of their ministry focusses on how the church can remain present and engaged in the multi-religious setting of Southall.
The Right Revd Stephen Conway is the 69th Bishop of Ely. Bishop Stephen read Modern History at Keble College Oxford and taught at an Anglican public school in Scotland. He subsequently trained for the priesthood at Westcott House Cambridge and read Theology at Selwyn College. He spent the first twenty years of his ministry in the Durham Diocese. In 2002 he became Archdeacon of Durham and Canon Treasurer of the Cathedral. He then served in the Diocese of Salisbury as Bishop of Ramsbury before moving to Ely in 2010. The Bishop of Ely, by ancient tradition, is the Visitor of three Cambridge Colleges: Jesus, Peterhouse and St John's. He takes a keen interest in both the University of Cambridge and Anglia Ruskin University; he is also the Chair of the Council at Westcott House.
Ysmena Pentelow studied at St Andrew's University before training for the Ministry in 2001. She served her curacy in Stevenage and was then appointed Priest in Charge of St Paul's Langleybury, also in the St Alban's Diocese. During this time she was Diocesan Officer for Continuing Ministerial Education. In 2016 she was appointed to the College Living at St Mary the Virgin Ware.
Andrew Norman Wilson is an award-winning biographer, novelist, journalist and essayist, and a Fellow of the Royal Society of Literature. He was educated at Rugby School and New College Oxford. Initially drawn to the teaching profession and priesthood, he settled upon a life of writing, publishing his first novel, The Sweets of Pimlico, in 1977. He has since published over 40 works of fiction and non-fiction. His latest book is Resolution: A Novel of Captain Cook's Adventures of Discovery to Australia, New Zealand and Hawaii, Through the Eyes of George Forster, the Botanist on Board His Ship (Atlantic 2016). AN Wilson is a regular voice on BBC radio, and an occasional columnist for the Daily Mail, Telegraph, London Evening Standard, Financial Times, Times Literary Supplement, New Statesman, The Spectator and The Observer.