Sermons and Preachers
---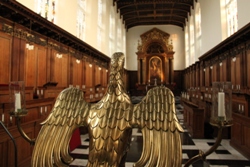 On this page you can find a list of this term's preachers, with brief biographies and links to their sermons (where available). There is also a link to our archive of preachers and sermons.
Sunday Evensong (6.15pm)
Easter Term 2023

Christian Voices from Prison
30 April



Dr Sophie Lunn-Rockliffe
Associate Professor in Patristics & Fellow in Theology, Peterhouse, Cambridge
Perpetua's Prison Diary


7 May
Evensong for the Coronation



14 May
James Penney Alumnus & Chairman of Darwin Alternatives
Frei Betto: From Hell to Hope

21 May


The Revd Dr Sam Wells, Vicar of St Martin-in-the-Fields & Visiting Professor of Christian Ethics, King's College London
Dietrich Bonhoeffer






28 May
Dr Dan Sperrin, Junior Research Fellow in English, Trinity College
The Consolation of Boethius



4 June


Professor David Ford, Regius Professor of Divinity Emeritus, University of Cambridge
Theology Behind Locked Doors



11 June


The Dean of Chapel


Martin Luther King's Letter from Birmingham Jail

Dr Sophie Lunn-Rockliffe read History at St Hugh's College Oxford before coming to Cambridge for an MPhil in Political Thought and a PhD in Late Antique History. She took up a Research Fellowship at Peterhouse in 2002 and then a College Lectureship and Fellowship in History. From 2006 she taught Roman History in the Classics Department at King's College London as a Lecturer and Senior Lecturer, before returning to Cambridge in 2016. She is currently an Associate Professor in Patristics in the Divinity Faculty and a Fellow in Theology and Religious Studies at Peterhouse. She has also held visiting fellowships at the Italian Academy for Advanced Studies at Columbia University (2006) and at the Davis Center for Historical Studies at Princeton University (2012).
James Penney's early career was in academia, including undergraduate and postgraduate research at Trinity College, followed by six years as Principal Lecturer at Westminster College Oxford. After Oxford, he was a Sloan Fellow at London Business School from which he has an MSc in Management Studies. Until 2013, James was the owner and Managing Director of Darwin Consulting, a strategy consulting firm he co-founded in 1998, providing strategic advice to directors and investors in a range of industries. In 2003 he co-founded the Darwin Group with Anthony Esse and in 2007 they established the Darwin Leisure Property Fund. He is now Chairman of Darwin Alternatives.
The Revd Dr Sam Wells has been Vicar of St Martin-in-the-Fields since 2012. He has served as a parish priest for 25 years – ten of those in urban priority areas. He also spent seven years in North Carolina, where he was Dean of Duke University Chapel. Sam is also Visiting Professor of Christian Ethics at King's College London. He is a regular contributor to 'Thought for the Day' on BBC Radio 4's Today programme. He has published forty-four books, including works on ethics, mission, ministry, scripture, liturgy, and preaching.
Dr Dan Sperrin is a Junior Research Fellow in English Literature at Trinity College, having completed his undergraduate and graduate degrees in Oxford. Dan is also a political cartoonist for The London Magazine. His research is mainly focussed on satire and satirists, especially in the eighteenth century and he is currently writing a history of satire in English literature for Princeton UP and is co-editing 'Gryll Grange' for The Cambridge Edition of the Novels of Thomas Love Peacock. He also writes on mock-heroic literature, Augustan poetics, and the reception of the ancient satirists after the Restoration.
Professor David F. Ford is Regius Professor of Divinity Emeritus in the University of Cambridge and a Fellow of Selwyn College. Born in Dublin, he studied Classics at Trinity College Dublin, where he was active in politics, debate and journalism. He earned his bachelor's degree in Theology at Cambridge and went on to earn a Master of Sacred Theology degree at Yale Divinity School and a doctorate at Cambridge, writing his dissertation on Karl Barth and biblical narrative. From 1976 to 1991 he was a lecturer at the University of Birmingham, then returning to Cambridge as Regius Professor of Divinity. During this time he was founding Director of the Cambridge Inter-faith Programme and co-founder of the inter-faith practice of Scriptural Reasoning. He chairs the trustees of Lyn's House, Cambridge (a community of hospitality and friendship for those with and without learning disabilities, founded by his wife Revd Deborah Ford and others). He co-chairs the Rose Castle Foundation, a centre for reconciliation, inter-faith engagement, religious literacy, and conservation, and the UK hub for Scriptural Reasoning, based in Rose Castle in Cumbria. His recent publications include The Gospel of John: A Theological Commentary (2021) and A Kind of Upside-Downness: Learning Disabilities and Transformational Community, co-edited with Deborah Hardy Ford and Ian Randall (2020).