Sermons and Preachers
---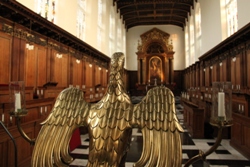 On this page you can find a list of this term's preachers, with brief biographies and links to their sermons (where available). There is also a link to our archive of preachers and sermons.
Sunday Evensong (6.15pm)
Lent Term 2019


The Psalms



20 January


The Dean of Chapel


Psalm 130
Out of the deep

27 January



Professor Richard Bauckham

FBA


Emeritus Professor of New Testament Studies, University of
St Andrews & Senior Scholar, Ridley Hall

Psalm 145
I will magnify thee

3 February


The Right Hon. Frank Field

MP DL


Member of Parliament for Birkenhead



Psalm 133
Behold, how good

10 February


Professor Robert Gordon

FBA


former Regius Professor of Hebrew, University of Cambridge



Psalm 86
Bow down thine ear

17 February


The Revd Kirsty Ross
Chaplain, Trinity College Cambridge

Psalm 22
My God, my God

24 February


The Revd Canon Adrian Daffern
Vicar, Great St Mary's, Cambridge



Psalm 23
The Lord is my shepherd

3 March


Professor Adrian Poole
Emeritus Professor English Literature & Fellow of Trinity College



Psalm 137
By the waters of Babylon

10 March


The Right Revd Robert Atwell
Bishop of Exeter



Psalm 49
Hear this, all ye people

Richard Bauckham was until 2007 Professor of New Testament Studies and Bishop Wardlaw Professor in the University of St Andrews and is now Professor Emeritus there. Richard read history at Clare College and was a Fellow of St John's College for three years. After teaching theology for one year at the University of Leeds and then for fifteen years at the University of Manchester, he moved to St Andrews in 1992. He is a Fellow of the British Academy and a Fellow of the Royal Society of Edinburgh. He retired in 2007 in order to concentrate on research and writing, and is Senior Scholar at Ridley Hall, Cambridge; he is also a Visiting Professor at St Mellitus College, London.
Frank Field has been the MP for Birkenhead since 1979. For the seven years leading up to the 1979 election, Frank chaired the Social Security Select Committee. He was Minister for Welfare Reform in Tony Blair's first cabinet. He served as Chair of the Independent Review on Poverty and Life Chances and co-Chair of the Cross Party Group on Balanced Migration. Frank co-founded Cool Earth in 2007, which aims to combat climate change by working with local communities around the world to protect endangered rainforest. He has also served as chairman of the Cathedral Fabrics Commission for England and chaired the King James Bible Trust, which was established to celebrate the 400th anniversary of the Authorised Version in 2011. In 2016 he established the Cathedral Academies Trust which aims to enable English cathedrals to set up academy schools in their cities which specialise in music and maths.
Robert Gordon studied at St Catharine's College Cambridge where he is now an Emeritus Fellow. He was a Lecturer at the University of Glasgow before returning to Cambridge in 1979 as Lecturer in Old Testament and Intertestamental Studies. He was elected Regius Professor of Hebrew in 1995, a post he held until his retirement in 2012.
Adrian Daffern is Vicar of Great St Mary's. He studied at both Durham and Oxford universities. After his ordination in 1992 Adrian served as a curate in Lichfield, as a Team Vicar on a housing estate in Stafford, and then as vicar of a large post-industrial parish in Walsall. He served for seven years as a Residentiary Canon at Coventry Cathedral and then for eight years in the Oxford Diocese as Rector of Woodstock and Bladon, Area Dean of Woodstock and Assistant Archdeacon of Dorchester. Adrian was installed as Vicar of Great St Mary's on 5 September 2018. A Fellow of the Royal College of Organists, at one time Adrian could be heard at the organ in episodes of The Archers.
Adrian Poole is Emeritus Professor of English Literature and has been a Fellow of Trinity College since 1975. He has strong interests in the traditions of tragedy from the Greeks to the present day, and in the afterlives of Shakespeare. His books include Shakespeare and the Victorians and Tragedy: a Very Short Introduction. He has also written on novelists including Dickens, George Eliot, Thomas Hardy, Robert Louis Stevenson, and Henry James, and he has edited the Cambridge Companion to English Novelists. He is one of the General Editors of the Complete Fiction of Henry James for CUP.
The Right Revd Robert Atwell was installed as the 71st Bishop of Exeter on 5 July 2014. Bishop Robert was previously Bishop of Stockport in the Diocese of Chester. He read theology at St John's College, Durham, and trained for the ministry at Westcott House, Cambridge. During training he was sent to study at the Venerable English College and Pontifical Gregorian University in Rome. After a curacy in north London he was appointed Chaplain of Trinity College, Cambridge, where he taught patristics. From there he took the unusual step of becoming a Benedictine monk at Burford Priory in the Cotswolds. These days he maintains his Benedictine vocation as an oblate of the Abbey of Le Bec in Normandy where he makes an annual retreat. He was Vicar of St Mary's, Primrose Hill, in the Diocese of London for nine years before being consecrated Bishop of Stockport in 2008. Bishop Robert is the compiler of two volumes of daily readings for the liturgical year, Celebrating the Saints and Celebrating the Seasons, together with three anthologies of devotional readings: Gift, Love, and Remember. He is the author of The Contented Life: spirituality and the gift of years, the Good Worship Guide: leading worship well, and joint author of the new Church of England discipleship course, Pilgrim. He has also written a book on the changing nature of funeral ministry in England today: Peace at the Last: leading funerals well. Bishop Robert chairs the Church of England's Liturgical Commission, a position he took up in January 2015.