Sermons and Preachers
---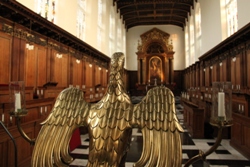 On this page you can find a list of this term's preachers, with brief biographies and links to their sermons (where available). There is also a link to our archive of preachers and sermons.

Sunday Evensong (6.15pm)


Easter Term 2017: The Church in the Modern World
30 April • Global Travel, Leisure and Pilgrimage

The Revd George Lane

7 May • Prisons

Dr Pieter De Witte





14 May • The Fate of Place

The Right Revd Dr John Inge





21 May • Hope in Christ and the Empire of Things

The Rt Revd & Rt Hon. Dr Richard Chartres KCVO





28 May • Faith and Nation

The Revd Christopher Stoltz


4 June • Migration

The Revd Dr Susanna Snyder


11 June • Consumerism

The Dean of Chapel




The Revd George Lane is the Co-ordinating Chaplain at Manchester Airport and also President of the International Association of Civil Aviation Chaplains. Ordained in the Church of England in 1993, George has served in parishes in Leeds, Blackburn and East Yorkshire – and was Vicar of Heald Green, at the end of the airport's Runway 1. He has also worked as Communications Officer for the Church of England in Manchester and for a charity which promotes inter-faith dialogue and engagement. George also loves singing with colleagues across the airport in the Airport Choir, founded by Gareth Malone in 2012 for his TV series Sing While you Work.
Dr Pieter De Witte is a Catholic prison chaplain and Coordinator of the Centre for Religion, Ethics and Detention at the University of Leuven. He was previously a lecturer in Religion and Didactics at the Hogeschool-Universiteit in Brussels and prior to that a lecturer at Chishawasha Regional Seminary in Harare, Zimbabwe. His doctoral dissertation at the University of Leuven focused on the Lutheran-Roman Catholic dialogue on justification by faith and its ecclesiological consequences. His research interests include ecumenism, ecclesiology and the role of religions in the context of criminal justice.
The Right Revd Dr John Inge became the 113th Bishop of Worcester in March 2008. Bishop John initially studied for a BSc at Durham University (where he later returned to read for an MA and PhD in Theology) and taught Chemistry. He studied for ordination at the College of the Resurrection, Mirfield, and served as a chaplain at Lancing College and then Harrow School where he continued to teach. Following six years as vicar of an inner-city church on Tyneside he moved to Ely as a Residentiary Canon at the Cathedral. He was appointed Vice Dean in 1999 and Bishop of Huntingdon in 2003. Bishop John is Chair of both the College of Evangelists and the Archbishop's Examination in Theology, is lead bishop for cathedrals and church buildings, and has served as a member of the Faith and Order Commission. In February 2013, he was appointed Lord High Almoner to Her Majesty the Queen.
The Right Revd & Right Hon Dr Richard Chartres KCVO is Dean of Her Majesty's Chapels Royal and has recently retired from the post of Bishop of London. He studied history at Trinity College Cambridge and taught Ancient History at the International School in Seville. He was ordained in 1973 and in 1975 was appointed Chaplain to Robert Runcie, then Bishop of St Albans, and from 1980–84 served as the Archbishop's Chaplain at Lambeth and Canterbury. He moved to the Diocese of London in 1984 as a parish priest, also serving as a Director of Ordinands and as Gresham Professor of Divinity. He was consecrated Bishop of Stepney in 1992 and three years later became Bishop of London, a post he retired from at the end of February this year. Bishop Richard's publications include The History of Gresham College 1597–1997 (with David Vermont) and Tree of Knowledge, Tree of Life (2005) and many articles and essays especially on religion and the environment.
The Revd Christopher Stoltz has been a Minor Canon at Westminster Abbey since May 2014, when he began as Sacrist. He became Precentor in 2015 and as such he is responsible to the Dean of Westminster for the daily worshipping life of the Abbey, and for designing and planning many of the special services which take place there. Christopher was previously at Trinity College Cambridge, where he spent four and a half years as Chaplain, and prior to that he served a curacy at Saint Michael's Church in Highgate, London.
The Revd Dr Susanna Snyder is Assistant Director of Catherine of Siena College and a tutor in Theology at the University of Roehampton, and a research associate at the Oxford Centre for Christianity and Culture. Susanna studied at the universities of both Cambridge and Birmingham, and was ordained an Anglican priest in 2006. She held a Postdoctoral Fellowship in the Initiative in Religious Practices and Practical Theology at Emory University 2009–10 and was Assistant Professor in the School of Social Work at the University of Texas at Austin and Assistant Professor in Contemporary Society and Christian Ethics at Episcopal Divinity School in Cambridge MA. Her research crosses the boundaries between Christian ethics, social work and migration studies and is currently working on a project exploring faith-based ethical responses to immigration detention. Her publications include Asylum-Seeking, Migration and Church, (2012) and Church in an Age of Global Migration: A Moving Body (with Joshua Ralston, 2015).