Sermons and Preachers
---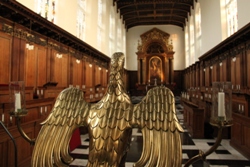 On this page you can find a list of this term's preachers, with brief biographies and links to their sermons (where available). There is also a link to our archive of preachers and sermons.
Sunday Evensong (6.15pm)
Michaelmas Term 2017:
Remembering the Reformation
8 October • Martin Luther

The Dean of Chapel


15 October • Saints & Martyrs of the English Reformation

The Revd Canon Dr Jessica Martin
Canon Residentiary, Ely Cathedral




22 October • Thomas Cranmer & The Book of Common Prayer

The Revd Professor Vernon White
Sub-Dean and Canon Theologian of Westminster





29 October • John Calvin

The Revd Dr Michael Volland
Principal, Ridley Hall





5 November • The Catholic Reformation




The Revd Robin Griffith-Jones
Master of Temple Church, London


12 November • Remembrance Sunday

The Revd Dana English
Assistant Chaplain, All Saints' Anglican Church, Rome


19 November • The Reformation and Christian Unity

Monsignor Mark Langham
Chaplain at Fisher House, University of Cambridge




Jessica Martin has been Residentiary Canon with particular responsibility for Education and Outreach at Ely Cathedral since September 2016. Before that she was priest-in-charge of Duxford, Hinxton and Ickleton for six years, following an academic career as a Fellow in English at Trinity College. She specialises in seventeenth century religious writing and early biography, and about devotional practices in early modern England. She is joint editor, with Professor Sarah Coakley, of a book on parish ministry and its challenges, For God's Sake: Re-Imagining Prayer and Priesthood in a Changing Church (Canterbury Press 2017).
Vernon White is Sub-Dean and Canon Theologian at Westminster Abbey, with particular responsibility for theological study and teaching. He is also Visiting Professor in Theology at King's College London. Canon White has had a longstanding concern for both academic and public theology, and is the author of a number of books. After studying at Cambridge and Oxford he became Tutor in Doctrine and Ethics at Wycliffe Hall, Oxford, and subsequently Chaplain and Lecturer at Exeter University, Rector of Wotton and Diocesan Director of Ordinands, Canon and Chancellor of Lincoln Cathedral and Special Lecturer in Theology at Nottingham University. In 2006 he was appointed Honorary Canon Theologian of Winchester Cathedral before moving to Westminster in 2011.
Before coming to Cambridge Michael Volland was Director of Mission at Cranmer Hall, Missioner to the East Durham Mission Project (a group of 9 parishes in the east of the Diocese of Durham) and Acting Area Dean of Easington. Prior to his ministry in Durham, Michael spent three years on the staff of Gloucester Cathedral, during which time he pioneered and led a fresh expression of church in the city centre. Before ordination training he spent six years engaged in parish-based youth ministry. Michael has led a number of mission teams to Newquay in Cornwall and also spent a number of years on the worship planning team for Greenbelt Festival. He holds a commission in the Royal Army Chaplains Department (RAChD) and has served as chaplain to Durham Army Cadet Force. His latest book, The Minister as Entrepreneur: Leading and Growing the Church in an Age of Rapid Change, was published by SPCK in 2015.
Robin Griffith-Jones is the Reverend and Valiant Master of the Temple at the Temple Church, and a Senior Lecturer in Theology at King's College London. Robin worked at the auctioneers Christies on leaving New College Oxford in 1978. After two years working with Mother Theresa's Sisters in India and with the long-term homeless in London, he studied theology in Cambridge. He served as Curate in outer Liverpool and as Chaplain at Lincoln College, Oxford. He was appointed Master of the Temple in 1999. Robin has published widely on the New Testament, on law and religion and on architectural history.
Dana English is the Assistant Chaplain at All Saints' Anglican Church in Rome. Dana studied English at Trinity College before being ordained as a Presbyterian minister in 1984, subsequently serving two congregations in Washington, D.C. and in San Francisco. In the summer of 2009 she and her family moved to Rome, where she began ministry as an Anglican priest three years later. Dana also presides and preaches at the Anglican Centre in Rome, where she created a Rome-based course on female leadership in the church through the centuries. She initiated the Ecumenical Garden Project at the Monastery of S. Gregorio al Celio in 2012. Dana is one of three ordained women in Rome, at present, alongside an Italian Baptist and a Filipino Methodist.
Msgr Mark Langham has been Catholic Chaplain at Fisher House since 2013. He studied Classics and later History at Cambridge. Ordained in 1990, he worked in Bayswater parish and at Westminster Cathedral before being appointed to the Pontifical Council for the Promotion of Christian Unity in Rome. He retains a great interest in ecumenism.