Sermons and Preachers
---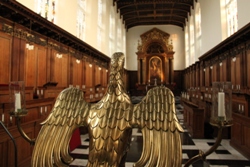 On this page you can find a list of this term's preachers, with brief biographies and links to their sermons (where available). There is also a link to our archive of preachers and sermons.
Sunday Evensong (6.15pm)
Lent Term 2018:


Faith in the Workplace



21 January • What is Faith in the Workplace?


The Right Revd Dr Bradly Billings
Director of Theological Education, Anglican Diocese of Melbourne, Australia

28 January • Faith in the Military

Brigadier Ian Dobbie OBE
formely of the Royal Engineers


4 February • Faith in Education

Alastair Land


Headmaster of Repton School



11 February • Faith in Music


Dr James Lancelot


Canon Organist Emeritus, Durham Cathedral



18 February • Faith in the Police




The Right Hon. Lord Ian Blair
Chair of the Board of Trustees, Woolf Institute, University of Cambridge
& former Commissioner of Metropolitan Police


25 February • Faith in Academia

Professor John Lister


Professor of Fluid Dynamics & Fellow of Trinity College Cambridge



4 March • Faith in the Arts

Pim Baxter

OBE


Deputy Director, National Portrait Gallery, London



11 March • Faith in the House of Lords


The Rt Revd & Rt Hon. Lord Richard Chartres

KCVO


Baron Chartres of Wilton, Life Peer & Honorary Fellow
of Trinity College Cambridge


Bishop Bradly Billings is the Director of Theological Education in the Anglican Diocese of Melbourne, Australia. Bishop Brad served for fifteen years in parish ministry in the Melbourne Diocese and was also Archdeacon of Stonnington & Glen Eira for nearly five years. In addition to parish ministry, Brad has maintained an interest and involvement in academic study and has degrees in Theology and Ministry, a Master of Arts in Classics & Archaeology and a Doctorate in Theology. His doctoral thesis was published in 2005 by T&T Clark, and he continues to write and publish articles on the New Testament and Early Christianity in various academic journals.
When Brigadier Ian Dobbie enlisted in the Army, he was the sixth consecutive generation to enter Government service (including his grandfather, who was Governor of Malta during the Siege of 1940–42). He duly became the third to be commissioned into the Royal Engineers and spent 15 years with the British Army of the Rhine, two years seconded to an Arab force in the Union of Arab Emirates and two tours in Ulster. He was an instructor at the Royal Military Academy Sandhurst and the Royal Air Force Staff College at Bracknell. On retiring from the Army, Brigadier Dobbie became Project Coordinator and Administrator of a large church at Sevenoaks. He then became General Secretary of a charity which coordinates the work of six broadly Christian organisations supporting the Armed Services. He served as Chairman of the Soldiers' and Airmen's Scripture Readers Association for 22 years and has represented Rochester Diocese for 16 years on General Synod of the Church of England.
Alastair Land is Headmaster of Repton School. He graduated from Trinity College Cambridge with a First in Biological Natural Sciences, having been President of the College Students' Union. He completed his PGCE at Cambridge, with teaching practice at Herts and Essex High School for Girls in Bishop's Stortford. His first teaching post was in the Biology Department at Eton College, followed by the post of House Master of the Scholars at Winchester College in 2003 and Deputy Head Master at Harrow School in 2012. He moved to Repton in April 2016.
Dr James Lancelot was Master of the Choristers and Organist at Durham Cathedral from 1985 until 2017 and is now Canon Organist Emeritus. He was educated at St Paul's Cathedral Choir School and Ardingly College. At 16, he was the youngest of his generation to attain the Fellowship of the Royal College of Organists. He went up to King's College, Cambridge, where he was Organ Scholar from 1971 to 1974. Prior to moving to Durham Cathedral, Lancelot spent ten years as Sub-Organist of Winchester Cathedral. In 2016 he was awarded the Archbishop of Canterbury's Cranmer Medal for Worship.
Ian Blair held the position of Commissioner of Metropolitan Police from 2005 to 2008. He joined the police force in 1974 under a graduate scheme and served 20 years in London. He was subsequently Deputy Chief Constable of Thames Valley Police and then Chief Constable of Surrey Police, before moving to the Metropolitan Police as Deputy Commissioner. Ian Blair was appointed as a crossbench life peer in July 2010. He now serves as Chair of the Board of Trustees at the Woolf Institute in Cambridge.
Pim Baxter is Deputy Director of the National Portrait Gallery. She did her MA at City University whilst working in marketing and then development at the National Theatre. She has been in a range of management and leadership roles across the arts, including opera, theatre and the visual arts. She has a number of non-executive roles including being a board member of Central School of Ballet, a Governor at MidKent College, the Chair of Faversham Counselling, and serves as a Lay Canon at St Paul's Cathedral. Pim was awarded an OBE for services to the arts in the 2015 New Year's Honours.
Richard Chartres studied History at Trinity College and taught Ancient History at the International School in Seville. He was ordained in 1973 and in 1975 was appointed Chaplain to Robert Runcie, then Bishop of St Albans, and subsequently served as the Archbishop's Chaplain at Lambeth and Canterbury. He moved to the Diocese of London in 1984 as a parish priest, also serving as Director of Ordinands for the Central Area and as Gresham Professor of Divinity. He was consecrated Bishop of Stepney in 1992 and three years later became Bishop of London, a post he retired from at the end of February last year. Following his retirement, Richard Chartres was made a Life Peer and now sits in the House of Lords as a cross-bencher; he was appointed an Honorary Fellow of Trinity College in 2017.