Walter William Rouse Ball
---
1850-1925. Historian of Mathematics and benefactor.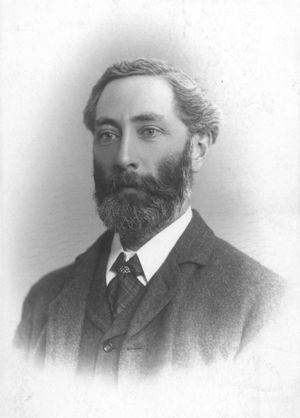 Rouse Ball took his first degree at University College, London, where he was awarded the gold medal in mathematics. He then matriculated at Trinity in 1871 and was Second Wrangler at graduation. He became a Fellow in 1875, and the following year was called to the Bar at the Inner Temple. After a short period as a barrister he returned to UCL to teach maths.
In 1878 he was invited to return to Trinity as a Lecturer in Mathematics and, two years later, he was appointed as Assistant Tutor. He was appointed Director of Mathematical Studies at Trinity in 1891, and promoted to Senior Tutor in 1898. In the same year he became chairman of the College Council and he acted as moderator of the Mathematical Tripos on a number of occasions. He also held posts within the wider university administration including sitting on the University Financial Board. Outside the University of Cambridge he also undertook a number of important duties, including being representative of the University on the Borough Council and various other bodies. He was also a governor of Westminster School and of the Perse School. A fellow governor of Westminster School wrote:-
Trinity College, Cambridge, has during the 40 years for which I have been a governor sent us some excellent representatives, but none better than the late Mr Rouse Ball. He was constant in attendance and an excellent colleague. He acted as auditor of our accounts and took our finances under his special charge. With these he was careful and prudent, but never hesitated to recommend judicious outlay.
Rouse Ball wrote A short account of the history of mathematics (1888) which provided a very readable and popular account of the subject. The fourth edition of 1908 was reprinted in 1960. He was also the author of the very popular Mathematical Recreations and Essays first published in 1892 which has run to fourteen editions.
The topics covered included chapters on mechanical recreations, bees and their cells, string figures, the colouring of maps, magic squares, chessboard problems, tessellations, and mathematical conjuring.
Ball also wrote The genesis and history of Newton's Principia and The history of mathematical studies at Cambridge. He also wrote a history of the First Trinity Boat Club, and histories of other university and college societies. He acted as treasurer of the University Boat Club.
Prizes in mathematical research were endowed at his death.
Memorial inscription
Translation

IN PIAM MEMORIAM GVALTERI GVLIELMI ROVSE BALL

DE BINIS ACADEMIIS ANTIQVIS ET PRAESERTIM
DE HOC SVO COLLEGIO BENE MERITI
QVOD VIVVS SCIENTIA ET CONSILIO
MORTVVS DIVITIIS AVXIT
DISCIPVLVS SOCIVS LECTOR TVTOR
DOMVS SALVTI AC DIGNITATI
SEMPER PRO SVIS VIRIBVS CONSVLEBAT
NATVS XIV DIE AVG. A.S.MDCCCL
OBIIT IV DIE APR. A.S.MDCCCCXXV




In pious memory of Walter William Rouse Ball. He deserved well of both ancient universities and particularly of this College, which he helped while alive with his knowledge and advice, and after his death with his wealth. As Scholar, Fellow, Lecturer and Tutor, he always tried to further the well-being and reputation of the College so far as he was able. He was born on 14th August 1850 and died on 4th April 1925.
Walter William Rouse Ball

Brass located on the south wall of the Ante-Chapel.
Inscription text by Ernest Harrison.

Click on the thumbnail for a larger image.