Frederick Robert Tennant
---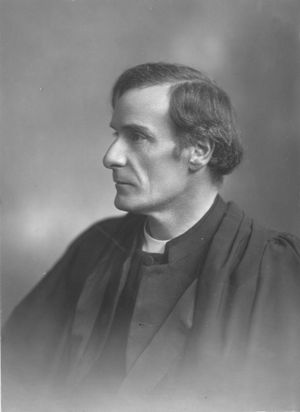 1866-1957. Philosophical theologian, proponent of the anthropic and aesthetic principles.
Tennant studied science at Gonville and Caius College, Cambridge, and was ordained while teaching science at Newcastle-under-Lyme High School (1891–94), becoming lecturer in Theology and fellow of Trinity in 1913.
In four early books Tennant discussed the concepts of sin, the fall, and miracles. In the first volume (1928) of his chief work, Philosophical Theology, Tennant showed himself temperamentally and philosophically unsympathetic to mysticism and argued that justification of the claims of religious experience to reveal God requires an independently established theism, derived by a "laborious ascent" from such knowledge about the self and the world as is supplied by epistemology, psychology, and the natural sciences.
The second volume (1930) described this ascent and gave Tennant's version of the argument from design. He was one of the first to argue that evolutionary theory could stand alongside the argument for a divine Creator. His bold endeavour to combine scientific and theological thinking was, however, overtaken by developments within both empirical philosophy and theology, where, on different grounds, claims for the reasonableness of Christianity were soon to be condemned.
Memorial inscription
Translation

FREDERICVS ROBERTVS TENNANT S.T.P.

COLLEGII NOSTRI PER XLIV ANNOS SOCIVS PER XXV LECTOR THEOLOGIAE RATIONALIS INDAGATOR ADSIDVVS
EX HOMINIS MVNDIQVE CONVENIENTIA
DEVM AGNOSCENDVM MONSTRARE LABORAVIT
ARTIS MVSICAE AMATOR
FLORVM CVLTOR MONTANORVM PERITVS AC FELIX
VIR GRAVIS PROBVS SERMONIS PARCVS
VITA NONAGENARIVS DECESSIT A.S.MCMLVII

Frederick Robert Tennant, D.D., was a Fellow of the College for forty-four years and a Lecturer for twenty-five years. He was an untiring investigator into philosophical theology and attempted to prove the existence of God from the harmony of Man and the World. He was a music-lover and a skilful and successful cultivator of alpine plants. He was a serious and upright man of few words. He died in 1957 at the age of ninety.
Frederick Robert Tennant

Brass located on the north wall of the Ante-Chapel.
Memorial inscription by John Burnaby.

Click on the thumbnail for a larger image.