Edward William Blore
---
1827-1885. Vice-Master; antiquarian artist and architect.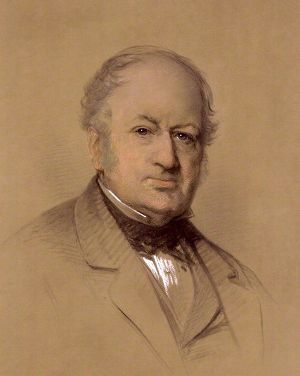 He promoted the restoration of this Chapel.
Blore is most notable for his completion of John Nash's design of Buckingham Palace, following Nash's dismissal. He completed the palace in a style similar to but plainer than that intended by Nash. In 1847 Blore returned to the palace and designed the great facade facing The Mall. He also worked at Lambeth Palace and St James's Palace in London, the CUP's Pitt Building in Cambridge, and a large number of other designs in both England and Scotland, including restoring Salisbury Tower at Windsor Castle.
Memorial inscription
Translation

IN piam memoriam
Viri Reverendi
Edvardi Gulielmi Blore A.M.

Nati a d ix Kal.Febr. a.s. mdcccxxviii
Qui hujus collegi [sic] diu socius
Olim tutor Denique vice-magister
Doctus Probus Vere Liberalis
In officiis Fungendis Comiter fidelis
Adolescent[i]um Consiliarius benignus et sapiens
Notis omnibus Carus vixit Defletus obiit
a d viii Kal.Jul. a.s. mdccclxxxv

Hoc monumentum poni curaverunt
cognati maerentes

In pious memory of the Revd Edward William Blore, M.A., born on 24th January 1827, for long a Fellow of the College, sometime Tutor and finally Vice-Master. A learned, righteous and truly generous man, he fulfilled his duties graciously and faithfully and was a wise and kindly counsellor to the undergraduates. He was loved by all who knew him while he lived, and mourned by them when he died on 24th June 1885. His grieving family arranged for this memorial to be erected.
Floor inscription
Translation
E.W. BLORE
V.M. 1880-1885
OB.JUN. 24 1885 ÆT. 57
E.W. Blore, Vice-Master 1880-1885. He died on 24th June 1885.

Brass located on the south wall of the Ante-Chapel. Stone located in the floor of the Ante-Chapel - but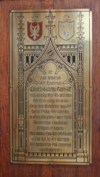 Blore is buried in Highgate Cemetery in London.