Thomas Sekford the Elder
---
Perhaps the most famous inhabitant of Woodbridge in Suffolk,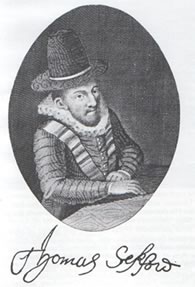 Thomas Sekford or Seckford (1515 -1587), was a prominent lawyer, politician and member of Queen Elizabeth's inner circle. Influential in the sixteenth century, his bequests to the town of Woodbridge continue to have a significant impact to this day.
Born into a well established and wealthy family whose estates stretched over a large part of the east of Suffolk, Thomas Sekford is believed to have studied at Trinity before entering Gray's Inn in 1540. William Cecil, later Lord Burghley and a favourite of Queen Elizabeth I, was his contemporary there and soon the two men became firm friends, working together on a number of occasions throughout their lives.
Within two years Sekford had become a barrister and in 1556 reached a position of national influence being appointed as Lent Reader to Gray's Inn; his promotion was fast and he was soon a Master of the Court of Requests, a most sought-after position. A medieval concept reinstated in the sixteenth century and run by professional judges, the Court dealt with pleas of poor men by means of petitions to the crown; cases being heard during the royal progresses around the realm. In addition to his lucrative fees as Master of the Courts of Request he received £100 a year from Queen Elizabeth for 'attending her royal person' – Sekford was now in a position of real influence.
In 1559 Sekford was made Surveyor of the Court of Wards and Liveries; working with Cecil to whom he was now related by marriage. Sekford and Cecil held sway over some of the largest estates in the kingdom. As an eminent lawyer he was also involved in the judgment of a number of high profile treason cases including some affecting his own family, not all of whom had given up their allegiance to Catholicism with Sekford's alacrity.
Despite Sekford's commitment to the law he remained a Suffolk man, pursuing a parliamentary career as elected member for Ipswich from 1559 and purchasing land and property throughout the east of the county as well as in Essex and Clerkenwell. In the sixteenth century Clerkenwell was seen as a leafy retreat from the noise and filth of London. Sekford saw an opportunity for profit and tried his hand, very successfully, at development.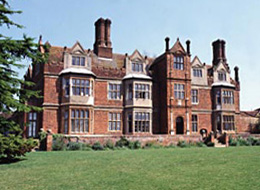 Sekford Hall had been left to his older brother so Thomas purchased his own manor house, now the Abbey School in Woodbridge, as well as a very prestigious property in Ipswich; he also had a home built on his land in Clerkenwell.
In 1567 Thomas married Elizabeth, widow of Sir Martin Bowes. From now on he spent more time in his beloved Woodbridge running his legal activities from the Shire Hall and having a family tomb built at St Mary's Church.
He was honoured in 1571, becoming Knight of the Shire of Suffolk; but he could never be described as provincial. His time in court had given him an interest in cartography. Christopher Saxton, (described as Seckford's pupil) was commissioned by the Queen on Sekford's recommendation to create the first county maps of England and thus England's very first atlas, which bore the arms of both Queen Elizabeth and Thomas Sekford (who is thought to have financed the project) upon its pages.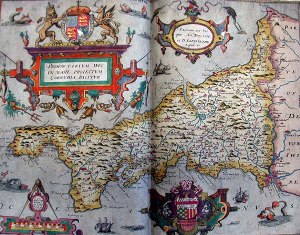 Sekford held strong religious beliefs and through his work saw the true impact of poverty and vagrancy in London. As a man of power and great wealth he felt it his duty to do what he could for the poor. In Woodbridge he founded an almshouse for thirteen poor men, as well as making important bequests to the poor of Woodbridge, Ipswich and Clerkenwell in his will.
Such generosity must have had a real impact on the small medieval market town of Woodbridge; what is unusual is that the effects of the Sekford bequests are still very much apparent today. The significant increase in property values in the eighteenth and nineteenth centuries meant that the charity's funds burgeoned and the Seckford Foundation was able to support the Hospital, Almshouse, Woodbridge School, the Dispensary (now a private house on the corner of Seckford Street) and the Seckford Library.
The Thomas Sekford whose tomb is in Trinity College Chapel was the nephew of the Thomas Sekford described above.
Information taken from www.visit-suffolkcoast.co.uk