Thomas Babington Macaulay, 1st Baron Macaulay
---
1800-59.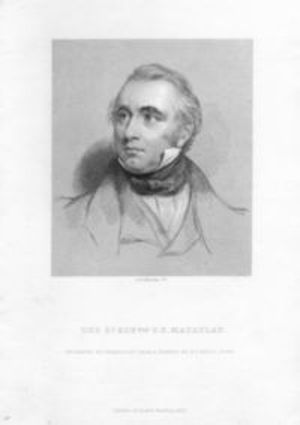 Poet, historian and Whig politician. He wrote extensively as an essayist and reviewer, and on British history. He held political office as Secretary at War between 1839 and 1841 and Paymaster-General between 1846 and 1848; he was a supporter of parliamentary reform. The author of the Lays of Ancient Rome.
The statue by Thomas Woolner was presented to the College in 1868 by Sir F. Pollock, Chairman of the Committee of Subscribers. It was first offered in 1861, when "a niche in the Library, or the Vestibule of the Library" was suggested.
Memorial inscription
Translation

THOMÆ BABINGTON BARONI MACAULAY

HISTORICO DOCTRINA FIDE VIVIDIS INGENII LUMINIBUS PRÆCLARO
QUI PRIMUS ANNALES ITA SCRIPSIT
UT VERA FICTIS LIBENTIUS LEGERENTUR
ORATORI REBUS COPIOSO SENTENTIIS PRESSO ANIMI MOTIBUS ELATO
QUI CUM OTII STUDIIS UNICE GAUDERET
NUMQUAM REIPUBLICÆ DEFUIT
SIVE INDIA LITTERIS ET LEGIBUS EMENDANDA
SIVE DOMI CONTRA LICENTIAM TUENDA LIBERTAS VOCARET
POETÆ NIHIL HUMILE SPIRANTI
VIRO CUI OMNIUM ADMIRATIO MINORIS FUIT
QUAM SUORUM AMOR
HUJUS COLLEGII OLIM SOCIO
QUOD SUMMA DUM VIXIT PIETATE COLUIT
AMICI MÆRENTES S.S.F.C.

T. WOOLNER. SC. 1868

Thomas Babington, 1st Lord Macaulay, was an historian famous for his learning, his faith, and the powerful clarity of his mind. He was the first to write history in such a way that facts could be read with more pleasure than fiction. As a speaker he was plentifully supplied with material, compressed in epigram, carried along by his own powerful emotions. Though his one delight was in literature, he always answered his country's call, whether the need was to reform India through education and legislation or at home to protect liberty against licence. As a poet he breathed a lofty strain. Universal admiration meant less to him than the love of his friends. Having been at one time a Fellow, he was greatly devoted to the College all his life; for that reason his grieving friends arranged for his statue to be erected.

Carved by Thomas Woolner, 1868.
Thomas Babington Macaulay

Statue by Thomas Woolner located in the Ante-Chapel.
Inscription text by Richard Claverhouse Jebb.