The building
---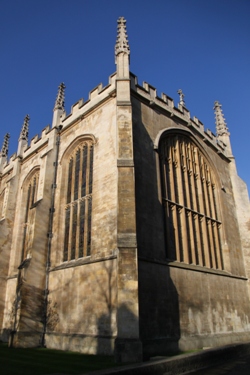 Trinity College Chapel was built by two queens, Mary and Elizabeth I, in the mid-16th century.
The building, which is 205 feet (62.5m) long, was begun in 1554-55 by Queen Mary, the daughter of Henry VIII by his first wife, Catherine of Aragon. Mary, a Roman Catholic, was succeeded by her Protestant half-sister Elizabeth I, Anne Boleyn's daughter, who completed the Chapel in 1567, though the date inscribed on the east end of the building, overlooking Trinity Street, is 1564.
The architectural style is Tudor-Gothic, with Perpendicular tracery and pinnacles. The roof is of an earlier style than the rest of the building, and may have been re-used from the chapel of King's Hall, the college which preceded Trinity on this site. Only the walls and roof are of Tudor date.
The stalls, wooden panelling, reredos and organ screen date from the early eighteenth century, and the coats of arms above the stalls from 1755-56. Five of the statues in the Ante-Chapel are nineteenth-century, whereas Roubiliac's famous statue of Newton was carved in the mid-eighteenth century.
The organ was built in 1976 by the Swiss firm Metzler. This mechanical-action instrument incorporates seven ranks of pipework from the organs built for Trinity by 'Father' Bernard Smith in 1694 and 1708, and the original cases have been restored.
The stone and marble raised pavement at the east end of the Chapel and the high altar were built in 1636. The painting of St Michael binding Satan, above the altar, was painted in 1768 by Benjamin West. The elaborate wooden reredos holding the painting is known as the baldacchino; it was built in the early eighteenth century in the Neo-Classical style.
The stained glass windows are mid-Victorian (1871-5).
An interesting article giving a nineteenth-century view of the Chapel may be downloaded.
Numerous Trinity men are commemorated in the building. In addition to the six fine statues in the Ante-Chapel there are 39 burials or interments, 193 commemorative brasses, busts and plaques on the walls, and over a thousand names listed on the two war memorials at either end of the building. An interactive index and galleries may be found in the memorials section of this website.