Remembrance Sunday 2014
---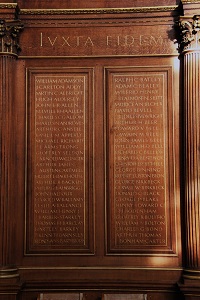 Over a thousand Trinity men (Fellows, students and staff) gave their lives in the two World Wars and are commemorated on the walls of the Chapel.

Sunday 9 November 2014

10.45am - Act of Remembrance and Mattins
To mark the 100th anniversary of the outbreak of the First World War there will be a special event of commemoration, including the Act of Remembrance, prior to the service of Mattins in Chapel. The address to be given by Sir Max Hastings.
6.15pm - Sung Requiem
The Requiem will be sung to the setting by Duruflé. The Preacher is Professor Frances Spalding, Professor of Art History at Newcastle University, who will speak on Stanley Spencer's The Resurrection of the Soldiers. As has become traditional at this service, the names of some of those who fell in the war will be read out.

We are especially pleased to welcome at these services all those who have served in the armed forces or who are relatives of those commemorated in the Chapel.
Published on 1 October 2014