Anthony Ashley Bevan
---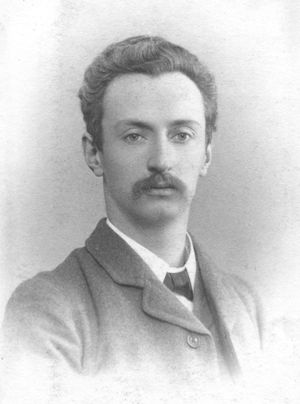 1859-1933. Scholar of Hebrew; Lecturer in Oriental Languages, Lord Almoner's Professor of Arabic.
Anthony Bevan was educated at Cheam, Surrey, the Gymnase Littéraire, Lausanne, and the University of Strasbourg, where he studied under Theodor Noeldeke, one of the greatest scholars in the field of oriental studies. He entered Trinity in 1884, and obtained a first in the Semitic languages tripos of 1887. In 1888 he gained a Tyrwhitt Hebrew scholarship and the Mason prize for biblical Hebrew, and two years later was elected a Fellow and appointed lecturer in oriental languages. In 1893 he became Lord Almoner's Professor of Arabic at Cambridge, a post previously held by his brother-in-law. It had an annual stipend of only £50, but Bevan had ample private means (his father was the head of the banking house which would become Barclays) and was soon dispensed from the one obligation of lecturing formally once a year. The post was abolished after his death. He was elected a Fellow of the British Academy in 1916, resigning in 1928.
Bevan was "one of the dozen most learned Arabists, not of England and Europe only, but of the whole world. He was almost equally distinguished for his knowledge of Hebrew and Old Testament literature. He knew Syriac thoroughly and other Semitic languages well, and he had an excellent acquaintance with Persian language and literature". (Burkitt).
He also had a knowledge of Sanskrit, and was fluent in French, Italian, and German. His published work was relatively small, but of the highest scholarship. He was fastidious and scrupulously careful: as he observed in the course of one of his typically uncompromising reviews, 'even slight inaccuracies are liable to become sources of confusion'. His friends and pupils could well believe the story that he was almost reduced to tears on discovering a misprint in one of his own works.

If Bevan's output was slight he spared himself no pains in assisting his colleagues, among other ways by reading their proofs: many, including his brother Edwyn, an archaeologist and Hellenist, were indebted to his scholarship. He was generous with his inherited wealth. He was a benefactor of the University Library and Museum of Archaeology, gave all his books to the Faculty of Oriental Languages, and left £10,000 to Trinity. Unostentatious, he was determined to ensure that his benefactions were made without drawing attention to himself.
DNB
Memorial inscription
Translation

ANTHONY ASHLEY BEVAN A.M.

linguarum multarum peritus Arabicae professor
homo non sine aculeis misericors
per XLII annos socius societatis numerum auxit legato

A.S.MDCCCLIX natus obiit MDCCCCXXXIII

Anthony Ashley Bevan, M.A., an expert in many languages, was Professor of Arabic.
A compassionate man who nonetheless did not lack a cutting edge, he was a Fellow for forty-two years. He increased the size of the Fellowship by his bequest. He was born in 1859 and died in 1933.
Anthony Ashley Bevan

Brass located on the north wall of the Ante-Chapel.
Inscription text by E. Harrison.

Click on the thumbnail for a larger image.
| | | |
| --- | --- | --- |
| PREVIOUS BRASS | | NEXT BRASS |