Anchitel Harry Fletcher Boughey
---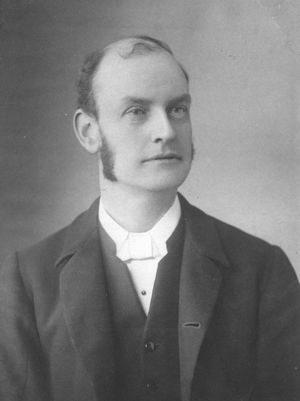 1849-1936. Lecturer in Classics and Theology. Vicar of Great St Mary's; bellringer.
Boughey was educated at Kensington School before coming up to Trinity as a Scholar; he graduated in 1872 as Wrangler with a First Class degree in the Classical Tripos.
He was made a Fellow of Trinity in 1874. He held the posts of Lecturer, 1877-1904; Tutor, 1886-96; Senior Dean, 1897-1908; he was Select Preacher before the University in 1883, 1894, 1901 and 1905. He became Rural Dean of Cambridge, 1912-16; Examining Chaplain to the Bishop of Durham, 1904-20.
His son Anchitel Edward Fletcher Boughey was a Rifleman who met his death in the First World War; he is commemorated on the Roll of Honour in Great St Mary's.
Memorial inscription
Translation

ANCHITEL HARRY FLETCHER BOUGHEY

Huius collegii discipulus socius lector tutor decanus
Vir tam disciplinae mathematicae
Quam utriusque linguae peritus
Artis pulsandi campanas magister
Infirmo corpore animo vivax
In rebus arduis serenus
Hilaritatem iuvenalem senex conservabat
Natus est a.d. XIX Kal. Sept. MDCCCXLIX
Obiit a.d. X Kal. Oct. MDCCCCXXXVI
Et in coemeterio de Trumpington
Iuxta uxorem requiescit.

Anchitel Harry Fletcher Boughey was a Scholar, Fellow, Lecturer, Tutor and Dean of the College. He was as skilled in mathematics as in the two classical languages, and a master of the art of bellringing. When his body was infirm his mind remained lively; he suffered serenely, and maintained a youthful cheerfulness in his old age. He was born on 14th August 1849 and died on 22nd October 1936. He is buried beside his wife in Trumpington Cemetery.
Anchitel Harry Fletcher Boughey

Brass located on the south wall of the Ante-Chapel.
Inscription text by Hugo Fraser Stewart.

Click on the thumbnail for a larger image.