Maurice Black
---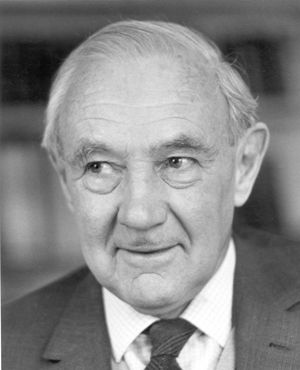 1904-73. Reader in Sedimentary Petrology.
Maurice Black began his undergraduate studies at Cambridge during the 1920s. His first published research appeared in 1929 relating to the Jurassic geology of the Yorkshire coast. He subsequently enrolled as a PhD candidate under the guidance of the Welsh geologist Professor Owen Thomas Jones.
In the early 1930s, Black spent time at Princeton University, New Jersey, USA. During a stay in the Bahamas in March 1930 he became the first person to notice that dense growths of cyanobacterial algal mats trapped and overgrew precipitated calcium carbonate forming structures known as stromatolites.
On his return to Cambridge, he lectured in stratigraphy. He subsequently became a Fellow of Trinity. He compiled a large rock collection (primarily sedimentary rocks) which is now housed within the Sedgwick Museum collections. His particular expertise was in a field which was later to become known as Carbonate Sedimentology.
He was a member of the Trinity College Natural Sciences Society. He hosted a talk by the graptolite expert, Oliver M. Bulman, in his rooms at Trinity on Thursday Jan 27th 1938. In 1939 he produced a complete revision of Hatch and Rastall's "Petrology of Sedimentary Rocks" which was for many years the most widely used student text-book in this field among English-speaking peoples.
Maurice Black later specialized in micro-palaeontological studies relating to coccolithophores and the structure of coccoliths. These small micro-organisms are composed of tiny intricate plates of calcium carbonate. Black demonstrated for the first time that they were a major constituent of chalk. He pioneered the study of minute fossils through the use of the electron microscope.
He was a visiting lecturer at the University of Toronto during the 1950s and in 1959 returned to Princeton University and gave a series of lectures.
Memorial inscription
Translation

MAURICE BLACK

HVIVS COLLEGII DISCIPVLVS SOCIVS LECTOR
VIR SAGAX QVIETVS BENEVOLVS
SAXORVM SCIENTIAM SVBTILITER AVXIT
DECESSIT A.S.MCMLXXIII AETATIS SVAE LXX

Maurice Black was a Scholar, Fellow and Lecturer of the College. He was a wise, peaceable and kindly man who furthered by his skill the study of geology. He died in 1973 at the age of sixty-nine.
Maurice Black

Brass located on the north wall of the Ante-Chapel.
Inscription text by Francis Henry Sandbach.

Click on the thumbnail for a larger image.