Charlie Dunbar Broad
---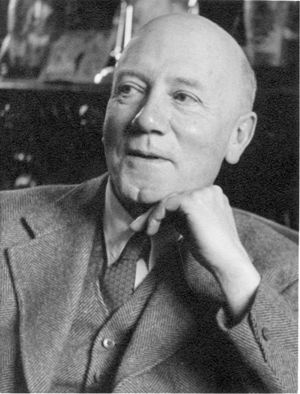 1887-1971. Professor of Moral Philosophy. Epistemologist, historian of philosophy, philosopher of science, moral philosopher, and writer on the philosophical aspects of psychical research. He was known for his thorough and dispassionate examinations of arguments in such works as Scientific Thought, published in 1923, The Mind and Its Place in Nature, published in 1925, and Examination of McTaggart's Philosophy, published in 1933.
Broad's essay on "Determinism, Indeterminism, and Libertarianism" in Ethics and the History of Philosophy (1952) introduced the philosophical terms "occurrent causation" and "non-occurrent causation", which became the basis for today's "agent causal" and "event causal" distinctions in the debates on Libertarian Free Will.
Broad was born in Harlesden, Middlesex, he was educated at Dulwich College from 1900 until 1906. He gained a scholarship to Trinity in 1906 and graduated with First-Class Honours, with distinction.
In 1911, he became a Fellow of Trinity. This was a non-residential position, which enabled him to also accept a position he had applied for as an assistant lecturer at St Andrews University. He was later made a lecturer at St Andrews University, and remained there until 1920. He was appointed professor at Bristol University in 1920, and worked there until 1923, when he returned to Trinity as a College Lecturer. He was a lecturer in 'moral science' in the Faculty of Philosophy at Cambridge from 1926 until 1931. In 1931, he was appointed Sidgwick Lecturer. He kept this role until 1933, when he was appointed Knightbridge Professor of Moral Philosophy at Cambridge, a position he held for twenty years, until 1953.
Broad was President of the Aristotelian Society from 1927 to 1928, and again 1954-1955. He was also President of the Society for Psychical Research in 1935 and 1958.
In 1958 Broad, along with fellow philosophers A.J. Ayer and Bertrand Russell and 28 others, sent a letter to The Times which urged the acceptance of the Wolfenden Report's recommendation that homosexual acts should 'no longer be a criminal offence'.
Memorial inscription
Translation

CHARLIE DUNBAR BROAD

Socius, lector, thesaurarii iunioris inter belli
angustias uice functus, moralis philosophiae in
academia professor disciplinae illius alias quoque
partes singulari acumine et diligentia lucidissime
tractauit. Non minus se ipsum quam alios nouerat.
In sermone plus salis quam fellis habuit. Sueciae
amorem prae se tulit. Huic collegio studuit opera
consiliis testamento sustinendo. Vita decessit
A.S.mcmlxxi suae aetatis lxxxiv



Charlie Dunbar Broad was a Fellow and Lecturer, and Acting Junior Bursar in the years of austerity during the Second World War. He was Professor of Moral Philosophy in the University, and he discussed that as well as other branches of philosophy in a very lucid manner with an uncommon acuteness and attention to detail. He had as clear a knowledge of his own mind as of the minds of others. There was more wit than bile in his conversation. He constantly affirmed his affection for Sweden. He supported the College by his hard work, good advice, and generous bequests. He died in 1971 at the age of eighty-three.
Charlie Dunbar Broad

Brass located on the north wall of the Ante-Chapel.
Inscription text by Francis Henry Sandbach.

Click on the thumbnail for a larger image.