John Burnaby
---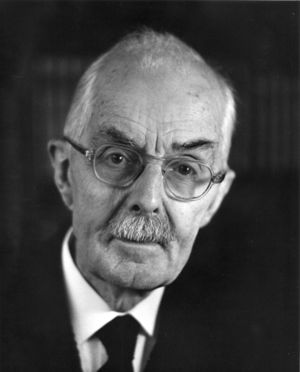 1892-1978. Junior Bursar, Tutor, Dean of Chapel, Hulsean Lecturer, Regius Professor of Divinity.
Burnaby was educated at Haileybury College and Trinity, where he was a Craven Scholar (1912) and Chancellor's Classical Medalist (1914).
He served in Gallipoli and France in the First World War in 1st Battalion The London Regiment. He became a Fellow of Trinity in 1915; Junior Dean in 1919; Steward and Prælector in 1921; from 1921 to 1931 he was Junior Bursar, then becoming Tutor (1931-38); Senior Tutor (1938-45), and Dean of Chapel (1943-58), having been ordained priest in 1942. He was also Hulsean Lecturer (1938); College Lecturer in Theology (1939-51); University Lecturer in Divinity (1945-52), and finally Regius Professor of Divinity (Emeritus), from 1952 to 1958.
His principal publications were Amor Dei: a study in the religion of St Augustine, 1938; Is the Bible Inspired?, 1949; Later Works of St Augustine (trans. and ed) in the Library of Christian Classics, 1955; Christian Words and Christian Meanings, 1955; The Belief of Christendom, 1959. He was also the author of the Trinity Prayer:
O Holy blessed and glorious Trinity,
God Three in One,
have mercy upon us:
Prosper with thy blessing this College
which is called by thy name:
And grant that all its members
both here and elsewhere,
may so live and labour
that in the power of the Spirit
and through faith in the Son
they may enter into their true heritage
as children of the Father in Heaven,
to whom be all glory and honour
now and for ever.
Amen.
Memorial inscription
Translation

JOHN BURNABY

DISCIPVLVS SOCIVS THESAVRARIVS TVTOR LECTOR DECANVS DENIQVE MVLTOS POST ANNOS COLLEGIO DEDITOS SANCTAE THEOLOGIAE PROFESSOR REGIVS
VIR INTEGER PRVDENS DIVERSARVM ARTIVM PERITVS
IN QVO SVB VVLTV SEVERO MVLTA BENEVOLENTIA
MVLTA ETIAM VIS COMICA LATEBAT
S. AVGVSTINI DOCTRINAE INTERPRES EXIMIVS
FIDEI CHRISTIANAE PRAEDICATOR IDEM ET EXEMPLAR
OBIIT A.S.MCMLXXVIII AETATIS SVAE LXXXVII

Having been Scholar, Fellow, Junior Bursar, Tutor, Lecturer, and Dean of the College, John Burnaby was eventually appointed Regius Professor of Divinity, after many years devoted to the College.
He was an upright and sagacious man who had many and varied accomplishments. His stern countenance concealed much kindness and a keen sense of humour. He was an outstanding expositor of the thought of St Augustine, and he furthered the Christian faith by his preaching and by his example. He died in 1978 at the age of eighty-six.
John Burnaby

Brass located on the north wall of the Ante-Chapel.
Inscription text by W. Hamilton.

Click on the thumbnail for a larger image.