Robert Burn
---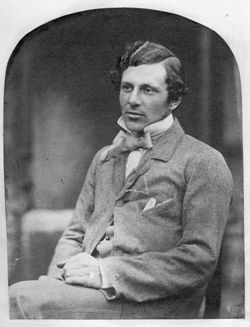 1829-1904. Classicist; Fellow and Praelector in Roman Literature and Archaeology; Dean.
Robert Burn was the son of the Revd A. Burn, Rector of Kinnersley in Shropshire. He went to Shrewsbury School before coming up to Trinity, subsequently studying at Glasgow University where he gained his LLD. In due course he became Tutor and Praelector of Trinity.
He was an expert on the history of Rom and the surrounding area. His principal publications were Rome and the Campagna, 1871; Roman Literature and Arts, 1888; Old Rome, 1882; Handbook to Ancient Rome and Neighbourhood, 1896.
Burn was one of the original governors of Winchester College. He is buried at St Giles's, Cambridge.
Memorial inscription
Translation

ROBERTO BURN

COLL. S.S.TRIN. SOCIO TUTORI PRAELECTORI
DE ROMA ET CAMPANIA SCRIPTORI ERUDITO
VIRO SIMPLICI HUMANO PIO
INTEGRA VALETUDINE STRENUO
AEGRA IAM ET PERDITA PATIENTISSIMO
HANC TABULAM MARITO UXOR D.D.D.
INGENII SUAVITATIS FORTITUDINIS MEMOR.

NAT. A.D.XI KAL.NOV. A.S.MDCCCXXIX
OB. PRID.KAL.MAI. A.S.MCMIV



Fellow, Tutor and Praelector of Trinity College, Robert Burn was a learned writer on Rome and Campania. An artless, kind and religious man,
he was active when in good health, and patient throughout his long and ultimately fatal illness.
His wife dedicated this brass as a memorial to her husband's genius, charm and courage.
He was born on 22nd October 1829 and died on 30th April 1904.
Robert Burn

Brass located on the north wall of the Ante-Chapel.
Inscription text by Henry Montagu Butler.

Click on the thumbnail for a larger image.