Francis Crawford Burkitt
---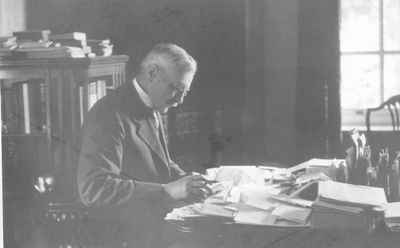 1864-1935. Theologian; the author of theological works on the Gospels.
Burkitt was educated at Harrow and Trinity, where he read Mathematics, graduating B.A. as 28th Wrangler in 1886, and gained a first in the theological tripos two years later.
He went on the 1893 expedition to Saint Catherine's Monastery, Mount Sinai, to examine a Syriac palimpsest of the Gospels discovered there the previous year. Burkitt played an important role in deciphering the text, and in subsequent publication of the team's findings.
Burkitt was a noted figure at Cambridge in 1912-35 for his chairmanship of the Cambridge New Testament Seminar, attended by other prominent theologians, including Robert Newton Flew, who left an account of it in an obituary for Burkitt in the Proceedings of the British Academy. He was a sturdy critic of the notion of a distinct "Caesarean Text" of the New Testament put forward by B. H. Streeter and others.
Memorial inscription
Translation

FRANCISCVS CRAWFORD BVRKITT S.T.P.

IN ACADEMIA PER ANNOS XXX PROFESSOR NORRISIANVS
HVIVS COLLEGII SOCIVS
VIR PRO SVMMA ARTIVM ET MORVM SVAVITATE SVIS CARISSIMVS INGENIVM ACVMEN INDVSTRIAM DEO ET ECCLESIAE VOVIT LINGVARVM PRAECIPVE ORIENTALIVM PERITVS SCRIPTVRAE SANCTAE INTEGRITATEM TEXTVS REDDERE STVDEBAT
SECTAS ANTIQVAE ECCLESIAE HAERETICAS FELICISSIME ILLVSTRAVIT VERA IESV CHRISTI LINEAMENTA SCRIPTIS
ADVMBRARE CONATVS
IN DOMINI SVI PACE OBDORMIVIT
A.D.V IDVS MAIAS A.S.MCMXXXV AETATIS SVAE LXXI

Francis Crawford Burkitt, D.D., for thirty years Norrisian Professor in the University, and a Fellow of the College, was dearly loved by his friends for his graceful accomplishments and charm of manner. He dedicated his genius, acumen and industry to God and the Church. A skilled linguist, particularly in the Oriental languages, he applied himself to restoring the original text of the Holy Scriptures. He successfully shed light on the heretical sects of the early church, and tried in his writings to delineate the true character of Christ. He fell asleep in his Lord's peace on 11th May 1935 at the age of seventy.
Francis Crawford Burkitt

Brass located on the south wall of the Ante-Chapel.
Inscription text by A. Nairne.

Click on the thumbnail for a larger image.