Richard Austen Butler
---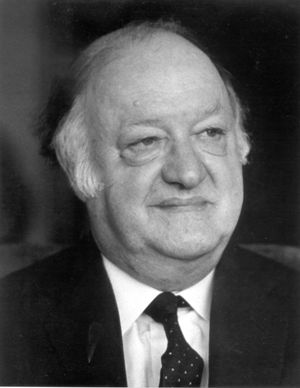 1903-82. "Rab" Butler, Baron Butler of Saffron Walden, KG CH DL PC, one of only two politicians to have served as Chancellor of the Exchequer, Home Secretary and Foreign Secretary; also Deputy Prime Minister.
Butler's was a family of Cambridge dons and Indian Governors; as a child his right arm was injured in a riding accident, as a result of which his hand never fully functioned. He was educated at Marlborough College and Pembroke College, Cambridge, where he was President of the Union. He read French (in which he obtained a First), German and, in his fourth year, History and International Relations, in which he obtained one of the highest Firsts in the University. He specialised in the study of Sir Robert Peel.
After a brief period as a Cambridge don, teaching nineteenth century French history, he was elected as Member of Parliament for Saffron Walden in the 1929 general election. Butler held this seat until his retirement in 1965.
In 1965 he was appointed Master of Trinity, and awarded a life peerage as Baron Butler of Saffron Walden. At the time of his retirement from Parliament he was the longest continuously serving member of the Commons and Father of the House.
Memorial inscription
Translation



RICHARD AVSTEN BVTLER BARO DE SAFFRON WALDEN

NOBILISSIMI ORDINIS PERISCELIDIS EQVES
VIR CVLTVS MODERATVS VERSVTVS
QVI ILLVSTRISSIMIS REI PVBLICAE MVNERIBVS FVNCTVS DENIQVE TEMPORE INQVIETO MAGISTER NOBIS PRAEFECTVS EISDEM VSVS ARTIBVS QVIBVS PATRIAE PROFVERAT ADIVVANTE CONIUGE VNANIMA
TRANQVILLITATI CONSVLVIT COLLEGIVM ROBORAVIT
OMNIBVS CVIVSCVNQVE AETATIS AMICISSIMVM SE PRAEBVIT
OB. A.S.MCMLXXXII AET.SVAE LXXX

Richard Austen, Lord Butler of Saffron Walden and Knight of the Most Noble Order of the Garter, was a man of culture, moderation and shrewdness. After holding some of the most distinguished offices of state, he was appointed Master of the College at a time of unrest. By applying the same skills that he had employed in the service of his country, and with the whole-hearted support of his wife, he acted as a peacemaker, strengthened the College, and endeared himself to all, young and old alike. He died in 1982 at the age of seventy-nine.
Richard Austen Butler

Brass located on the north wall of the Ante-Chapel.
Inscription text by W. Hamilton.

Click on the thumbnail for a larger image.