John Walton Capstick
---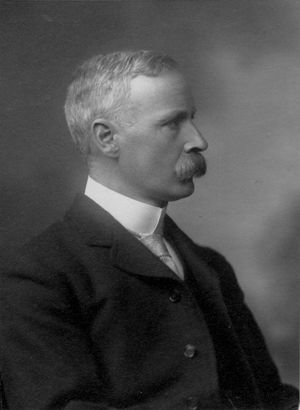 1858-1937. Physicist; Junior Bursar. An accomplished musician. He served as an ambulance driver in the French army, and became Inspector of Munitions.
Capstick was born in Lancaster and educated at the Friends' School, Lancaster, and Owens College, Manchester, then a part of Victoria University; he won the senior Dalton mathematical scholarship in 1882 and took first class honours in Mathematics at the University of London in 1883. He then took a teaching post in the University of Dundee, saved some money, and entered Trinity as a sub-sizar in 1888. He was elected to a sizarship in 1889 and to a scholarship in 1890. He took a first class in Part 1 of the Natural Sciences Tripos in 1890, and one in Part II, with distinction in both Physics and Chemistry, in 1891. For the next seven years he played a prominent part in the work of the Cavendish Laboratory, and in the administration of Trinity from 1895 until 1910.
Memorial inscription
Translation

IN MEMORIAM

IOHANNIS WALTON CAPSTICK

QVI COLLEGIO PER XXXIV ANNOS SOCIVS PER XII
THESAVRARIVS DOMESTICVS INSERVIVIT RERVM
PHYSICARVM ET MVSICARVM HABILIS EXPLICATOR AMICORVM STVDIIS DIVERSIS PRAESERTIM IN RE PECVARIA OPERAM BENIGNAM FRVCTVOSAMQVE NAVAVIT NATVS A.D.MDCCCLVIII OBIIT MDCCCCXXXVII



In memory of John Walton Capstick, who served the College as a Fellow for thirty-four years, and as Domestic Bursar for twelve years. An able expositor of physics and music, he devoted his energies with kindness and profit to the many different interests of his friends, especially the rearing of livestock. He was born in 1858 and died in 1937.
John Walton Capstick

Brass located on the south wall of the Ante-Chapel.
Inscription text by E. Harrison.

Click on the thumbnail for a larger image.