Edward Hallett Carr
---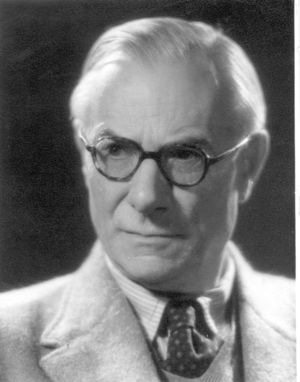 1892-1982. Left-wing historian and diplomatist.
Ted Carr was educated at Merchant Taylors' School, and won the Craven Scholarship to Trinity. He began his career as a diplomat in 1916. Becoming increasingly preoccupied with the study of international relations and of the Soviet Union, he resigned from the Foreign Office in 1936 to begin an academic career.
From 1941 to 1946, Carr worked as an assistant editor at The Times, where he was noted for his controversial editorials urging a socialist system and an Anglo-Soviet alliance as the basis of a post-war order.
He became a Fellow of Trinity in 1955 and remained so until his death. Here Carr worked on a massive 14-volume work on Soviet history entitled A History of Soviet Russia, a project on which he was still engaged at the time of his death in 1982. In 1961 he delivered the G.M. Trevelyan lectures which became the basis for his book, What is History? in which he laid out historiographical principles rejecting traditional historical methods and practices. Moving increasingly towards the left throughout his career, Carr saw his role as the theorist who would work out the basis of a new international order.
Memorial inscription
Translation

EDWARD HALLETT CARR

Huius collegii olim scholaris
deinde uariis pro re publica muneribus functus
tum apud cambrenses professor
ad postremum socius huc reversus
senectutis plus viginti annos
novis apud russos rebus narrandis
ornatus laudibus consumpsit.
Obiit a.s. mcmlxxxii suae aetatis xci.



Edward Hallett Carr, once a Scholar of this College, went on to hold various posts in the public service. He was then appointed Professor at the University of Wales. Finally he returned to Trinity as a Fellow, where he spent more than twenty years of his old age in writing a history of the Russian Revolution, which earned much praise. He died in 1982 at the age of ninety.
Edward Hallett Carr

Brass located on the north wall of the Ante-Chapel.
Inscription text by Francis Henry Sandbach.

Click on the thumbnail for a larger image.