William Cunningham
---
1849-1919. D.D.; Chaplain. Lecturer in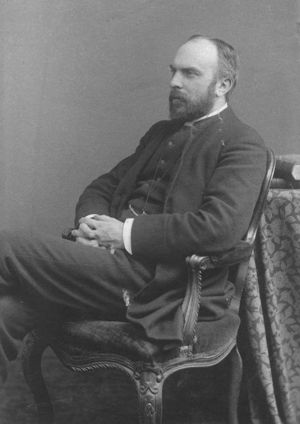 Pastoral Theology and Economical History.
Cunningham was an eminent economic historian, a proponent of the historical method in economics, and an opponent of free trade.
Educated at Edinburgh Academy and University and Trinity, he gained a first in the Moral Science tripos and took holy orders the same year, later serving as chaplain of Trinity from 1880-91. He was university lecturer in history from 1884 to 1891, in which year he was appointed Tooke Professor of Economy and Statistics at King's College London, a post which he held until 1897. He was lecturer in economic history at Harvard University (1899), and Hulsean Lecturer at Cambridge (1885). He became Vicar of Great St Mary's in 1887, and was made a Fellow of the British Academy. In 1907 he was appointed Archdeacon of Ely.
Cunningham's Growth of English Industry and Commerce during the Early and Middle Ages and Growth of English Industry and Commerce in Modern Times are among the standard works of reference on the industrial history of England.
Cunningham's eminence as an economic historian lent weight to his support of Joseph Chamberlain from 1903 onwards in criticizing the English free-trade policies and advocating tariff reform. He was a critic of the nascent Neoclassical economics, particularly as propounded by his colleague, Alfred Marshall, and the Cambridge School.
Memorial inscription
Translation

GVILELMO CVNNINGHAM S.T.P.

socio lectori benefactori
ecclesiae S. Mariae majoris vicario archidiacono Eliensi
hanc tabellam posuit collegium.

Vir fortis ac strenuous multis in muneribus spectatus
multarum peritus scientiarum
historiae oeconomicae auctor egregius
amicitia cum plurimis conjunctus
suorum perfugium et praesidium
post amissam valetudinem
post abreptum bello filium unicum
statum suum obtinebat
donec domino suo ducique Christo
cuius sub vexillo tamdiu militaverat
animam invictam reddidit.
Natus est Edinae IV kal. Jan. MDCCCXLIX
obiit IV ID. Jun MCMXIX
et in coemeterio Wilburtonensi sepultus est.

The College erected this brass in memory of William Cunningham, D.D., Fellow, Lecturer and benefactor, vicar of Great St Mary's Church and Archdeacon of Ely. He was a resolute and active man, distinguished for his many services, and learned in many disciplines. A notable writer on economic history and a firm friend to many, he was a refuge and support to his friends and family. Though his health deteriorated and he lost his only son in the First World War, he remained at his post until he yielded up his indomitable spirit to his Lord Christ, under whose standard he had for long crusaded. He was born in Edinburgh on 29th December 1849 and died on 12th June 1919; he is buried in Wilburton Cemetery.
William Cunningham

Brass located on the south wall of the Ante-Chapel.
Memorial text by James Duff Duff.

Click on the thumbnail for a larger image.