Sir Henry Hallett Dale
---
1875-1968.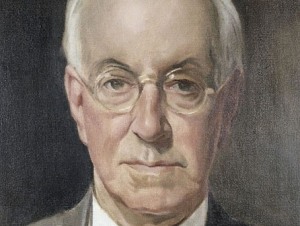 Sir Henry Hallett Dale, OM, GBE, PRS, won the 1936 Nobel Prize in Physiology or Medicine with Otto Loewi, for their study of acetylcholine as agent in the chemical transmission of nerve impulses (neurotransmission).
Dale was educated at The Leys School Cambridge (one of the school's houses is named after him) and in 1894 entered Trinity, working under the physiologist John Langley. For a few months in 1903 he also studied under Paul Ehrlich in Frankfurt, Germany. Also in 1903, Dale assisted Ernest Starling and William Bayliss in the vivisection of a dog, by removing the dog's pancreas and then killing the dog with a knife, which ultimately led to the events of the Brown Dog affair.
Dale received his M.D. from Cambridge in 1909. While working at the University College London he met and became friends with Otto Loewi. Dale became the Director of the Department of Biochemistry and Pharmacology at the National Institute for Medical Research in London in 1914. He was knighted in 1932, receiving the Order of Merit in 1944 and the Knight Grand Cross of the Order of the British Empire in 1948. Dale served as President of the Royal Society from 1940 to 1945. He became a Fullerian Professor of Chemistry at the Royal Institution in 1942. During World War II he served on the Scientific Advisory Panel to the Cabinet.
Memorial inscription
Translation

HENRICVS HALLETT DALE

O.M. G.B.E. SOCIVS HONORIS CAVSA ELECTVS
PARITER MEDICINA ET PHYSIOLOGIA ERVDITVS REPERTIS SVIS STVDIVM VTRVMQVE INSIGNITE PROMOVIT STVDENTIBVS AMICVS ET MAGISTER ADSTITIT SENEX MVLTIS MVNERIBVS FUNCTVS
A.S. MCMLXVIII AET. SVAE XCIV DE VITA DECESSIT

Henry Hallett Dale, O.M., G.B.E., Honorary Fellow. Equally learned in medicine and physiology, he signally advanced both disciplines by his discoveries. He stood by his students as friend and teacher. After a long life with many responsibilities he died in 1968 at the age of ninety-three.
Henry Hallett Dale

Brass located on the north wall of the Ante-Chapel.
Memorial text by A.S.F. Gow.

Click on the thumbnail for a larger image.