James Duff Duff
---
1860-1940.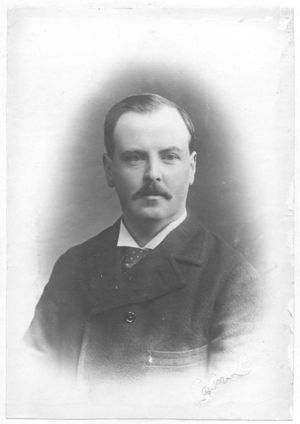 Classicist and translator of Russian authors.
J.D. Duff came as a scholar to Trinity in 1878 and was elected a Classical Fellow in 1883, a post he held until his death.
Teaching Latin and Greek at Trinity, and also at Girton, was the main work of his life; and he is best known to classical scholars for what A.E. Housman praised as his 'unpretending school edition' of Juvenal. He was over forty years old when he taught himself Russian, in order to read in the original the novels of Tolstoy and especially Turgenev, which he had greatly admired in French translations. He never visited Russia, but had Russian friends, with whom he corresponded in their own language: notably Alexandra Grigorievna Pashkova, the wife of a Russian landowner, whose two sons were Trinity undergraduates.
He was the father of P.W. Duff, who was to become Vice-Master of Trinity.
Memorial inscription
Translation

JAMES DUFF DUFF, SOCIVS SOCIIS TVTOR PVPILLIS GRATISSIMVS, SOCII EIVSDEMQVE TVTORIS PATER, LITTERARVM GRAECARVM LATINARVM RVSSICARVM DOCTVS ET LEPIDVS INTERPRES.
NATVS EST A.D.MDCCCLX OBIIT MDCCCCXL

A Fellow very popular with the Fellows, a Tutor very popular with his pupils, James Duff Duff was the father of a Fellow and Tutor. He was a scholarly and elegant expositor of Greek, Latin and Russian literature. He was born in 1860 and died in 1940.
James Duff Duff

Brass located on the south wall of the Ante-Chapel.
Inscription text by E. Harrison.

Click on the thumbnail for a larger image.