Patrick William Duff
---
1901-91. Vice-Master, Regius Professor of Civil Law.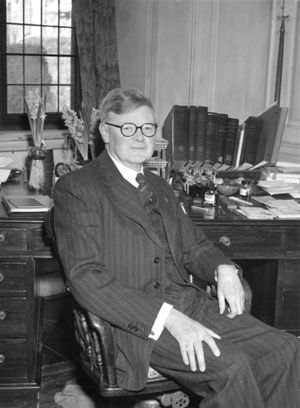 He was educated at Winchester College and Trinity, where he gained a first in both Parts I and II of the Classical Tripos, and held Craven and Whewell Scholarships; he proceeded to Munich University and Harvard Law School. He was a Tancred Scholar of Lincoln's Inn.
He was called to the bar in 1933, having been elected a Fellow of Trinity in 1925; Lecturer, 1927; Tutor, 1938; Senior Tutor, 1945; Dean of College, 1950; Vice-Master, 1960; Regius Professor of Civil Law, Cambridge, 1945-68. He was a Fellow of Winchester College, 1948-76, and Warden, 1959-62. He was President of the Society of Public Teachers of Law from 1957 to 1958. Honorary Bencher of Lincoln's Inn, 1959. Cambridge Borough Councillor, 1947-51.
Among his publications were The Charitable Foundations of Byzantium (in Cambridge Legal Essays presented to Dr Bond, Prof. Buckland and Prof. Kenny), 1926; The Personality of an Idol (in the Cambridge Law Journal), 1927; Delegata Potestas Non Potest Delegari (in Cornell Law Quarterly), 1929; Personality in Roman Private Law, 1938; Roman Law Today (in Tulane Law Review), 1947.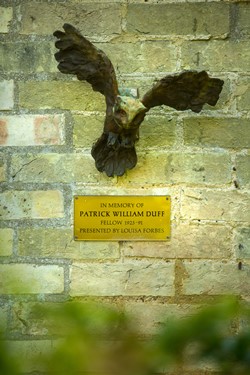 His recreation, as listed in Who's Who, was scouting. He died on 28 August 1991.
Memorial inscription
Translation

PATRICK WILLIAM DVFF

SOCII EIVSDEMQVE TVTORIS FILIVS DISCIPVLVS SOCIVS LECTOR TVTOR DECANVS VICEMAGISTER IN VNIVERSITATE IVRIS CIVILIS PROFESSOR REGIVS COLLEGII IN MVNERIBVS OBEVNDIS IN CONSILIO IMPERTIENDO IN ALVMNORVM GRATIA CONCILIENDA TOTVS FVIT SENEX CORPORE DIV INVALIDVS SERMONIS INGENIIQVE ACVMEN RETINVIT INTEGRVM

NATVS EST A.S. MCMI OBIIT A.S. MCMXCI

Son of a Fellow and Tutor, Patrick William Duff was an Undergraduate, Fellow, Lecturer, Tutor, Dean and Vice-Master, and Regius Professor of Civil Law in the University. He dedicated himself to his College offices, to giving advice, and to liaison with our alumni. As an old man he was long incapacitated in body, but in his conversation and character he remained as sharp as ever. He was born in 1901 and died in 1991.
Patrick William Duff

Brass located on the north wall of the Ante-Chapel.
Memorial text by Neil Hopkinson.

Click on the thumbnail for a larger image.