Frederick James Dykes
---
1891-1957. Mechanical Scientist; Proctor.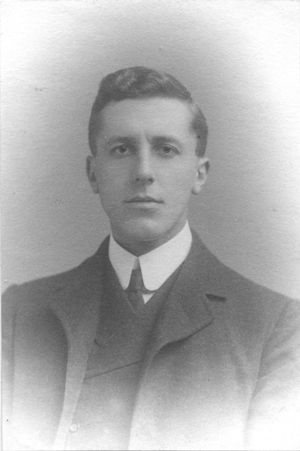 Memorial inscription
Translation

FREDERICVS IACOBVS DYKES

huius collegii per LI annos socius per XXVII
lector per XIV tutor, procuratoris munere
identidem functus, machinarum tam usus
quam scientiae peritus. uir comis alacer
ambagum impatiens pariter collegis et
discipulis acceptus. A.S.MCMLVII aetatis
suae LXXVII uita adhuc operosus decessit

Frederick James Dykes was a Fellow of the College for fifty-one years, Lecturer for twenty-seven years, and Tutor for fourteen years; and he repeatedly served as Proctor. Knowledgeable in mechanical theory and practice, an affable and eager man, intolerant of flummery, he was popular amongst colleagues and students alike. Energetic to the last, he died in 1957 at the age of seventy-six.
Frederick James Dykes

Brass located on the south wall of the Ante-Chapel.
Memorial text by A.S.F. Gow.

Click on the thumbnail for a larger image.