Sir Gerald Ponsonby Lenox-Conyngham
---
1866-1956.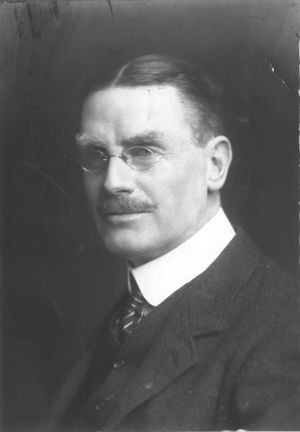 Reader in Geology. Superintendent of Trigonometrical Survey of India 1912-21.
Lenox-Conyngham was born in Ireland, one of eleven children of Sir William Fitzwilliam Lenox-Conyngham. He was educated at the Edinburgh Academy before entering the Royal Military Academy at Woolwich, from which he passed out first in his year, with the sword of honour and the Pollock medal. He spent two years at the School of Military Engineering at Chatham as a lieutenant in the Royal Engineers before being posted to India. After two years he applied for a transfer to the survey of India and joined the trigonometrical branch.

He was appointed as assistant to Sidney Burrard, who was engaged on attempting to find the cause of discrepancies in the measurements of the curvature of the earth. Together they succeeded in explaining this discrepancies, and in the process became friends as well as collaborators. By means of the land telegraph line across Europe and Persia they mapped relative points of longitude, with almost perfect accuracy, as was proved much later when wireless signals were used for the purpose.

Burrard next examined the observations of latitude acquired by the survey since the beginning of the century, and concluded that the anomalies in north India in zones parallel to the mountains could be ascribed to a dense subterranean mass to the south of the Gangetic plain. The most direct method of locating such a hidden mass is by measuring the acceleration due to gravity, using pendulum apparatus. Burrard and Lenox-Conyngham purchased and modified a recently designed apparatus with four half-second pendulums. From 1903 to 1908 Lenox-Conyngham undertook a series of gravity measurements in India which was perhaps his most important contribution to science.

In 1912 Lenox-Conyngham became superintendent of the trigonometrical survey and in 1914 a colonel. In 1918 he was elected FRS and in 1919 he was made a Knight Bachelor.
By 1931 he had discovered that, far from a great excess of mass where the hidden range was supposed to be, there was instead a defect of mass along the foot of the Himalayas and for some distance from them. This strip of negative gravity anomalies and deficient density was the first identification of a phenomenon which was subsequently found to occur widely, particularly on the outer edges of island arcs. The work of Burrard and Lenox-Conyngham on the gravity anomalies in India revived interest in this branch of geodesy by showing that its results have a wider interest than the mere study and reduction of errors in surveying.

Lenox-Conyngham left India in 1920 and a few months after his return to England was asked to join the committee for promoting the study of geodesy in Cambridge. The University could provide no funds, but Trinity College offered a praelectorship in geodesy. This was offered to Lenox-Conyngham who took up residence in Cambridge and in 1921 was made a Fellow of Trinity. In the following year the University created a readership in geodesy for him. With almost no financial support from the university he started to teach the basics of geodesy to a small group of undergraduates and later also to officers sent to Cambridge from many colonial survey departments. Assisted by Sir Horace Darwin he designed a set of pendulum apparatus which was constructed by Darwin's Cambridge Instrument Company as an improvement on the one used in India. It employed two invar pendulums swinging in opposite phase within an airtight chamber. Lenox-Conyngham's one-man school of geodesy, eventually the Department of Geodesy and Geophysics, then extended its work to include seismology and geothermal measurements where Lenox-Conyngham had little previous knowledge. But his interest was keen and his encouragement indefatigable. He used his influence extensively in procuring funds and apparatus. He also travelled widely, visiting scientific conferences all over the world. In 1925 he took the opportunity of a visit to Queensland to tour the Great Barrier Reef and consider the evolution of Pacific islands and reefs in relation to isostasy.

During the Second World War Lenox-Conyngham continued his lectures to rather depleted audiences although the experimental work in the department ceased. After the war when the department reopened great advantage was taken of the new techniques, in which Lenox-Conyngham took a keen interest even after his retirement in 1947.

Lenox-Conyngham had two complete and successful careers, one in India, the other in Cambridge. The Master of Trinity, G.M. Trevelyan, said: 'He is a scholar, a soldier, and a great public servant, and he looks all three' (The Times, 29 Oct 1956, 14a). As he grew older, Lenox-Conyngham's commanding presence became even more dignified and impressive. He had a rigid attitude to matters of the conventions in which he had been brought up, combined with an extraordinary openness of mind in matters of science. He was always delighted to see new methods of physics and engineering applied to the problems on which he had worked earlier. Lenox-Conyngham died in Cambridge; his funeral took place in Trinity College Chapel.
Memorial inscription
Translation

IN PIAM MEMORIAM

GERALDI PONSONBY LENOX-CONYNGHAM
EQVITIS AVRATI

QVI AGRIMENSORVM IN INDIA COLLEGII SVBPRAEFECTVS
SIMVL STIPENDIA MILITARIA MERITVS
DEINDE IN ACADEMIA GEODAESIAE LECTOR
PER ANNOS XXXV HVIVS COLLEGII SOCIVS
NOVI CONSILII MORVM VETERVM PROBATOR
VIR COMIS PRVDENS OFFICIOSVS
INTER FAMILIAM ET AMANTEM ET AMATAM
OBIIT ANNO MDCCCCLVI AETATIS SVAE XCI

In pious memory of Sir Gerald Ponsonby Lenox-Conyngham. He was Superintendent in the Survey of India, and served in the Army at the same time. He was then made Reader in Geodesy in the University and was a Fellow of the College for thirty-five years. He approved innovative ideas but also old-fashioned values. A kind, prudent, dutiful man, he died among his loving and much-loved family in 1956 at the age of ninety.
Gerald Ponsonby Lenox-Conyngham

Brass located on the south wall of the Ante-Chapel.
Inscription text by Alan Ker.

Click on the thumbnail for a larger image.