George Macaulay Trevelyan, CBE, FBA
---
1876-1962.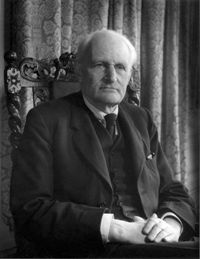 Master; Historian. War service in Serbia and Italy. Trustee of British Museum and National Portrait Gallery.
Born near Stratford upon Avon, Trevelyan was the youngest son of Sir George Otto Trevelyan, second baronet, a historian, landowner, Liberal MP, and cabinet minister. His elder brother Sir Charles Philips Trevelyan, third baronet, was secretary of education in the Labour governments of 1924 and 1929; they were great-nephews of Thomas Babington Macaulay. From an early age, Trevelyan had resolved to write history in the grand manner of his great-uncle. He read history at Trinity and was elected a Fellow soon afterwards. However, he resigned his fellowship after five years, and moved to London where he continued to write hugely successful books, including his masterpiece, the Garibaldi trilogy. E.H. Carr considered Trevelyan to be one of the last historians of the Whig tradition.
Memorial inscription
Translation

GEORGE MACAULAY TREVELYAN O.M.

COLLEGII SOCIVS ET POSTEA MAGISTER
HISTORIAE RECENTIORIS PROFESSOR REGIVS
VNIVERSITATIS DVNELMENSIS CANCELLARIVS
SCRIPTOR TAM DOCTVS QVAM ELEGANS CLIO IN MVSARVM NVMERVM REVOCAVIT IDEM RVRIS AMATOR AMOENITATES EIVS OPIBVS ET CONSILIO TVEBATVR INDOLE ALACRI AC VEHEMENTI NON SINE BENIGNITATE PRAEDITVS INTER AEQVALES PRISCAE VIRTVTIS EXEMPLAR EXSTITIT
OBIIT A S MCMLXII AETATIS SVAE LXXXVII

George Macaulay Trevelyan, O.M., was Fellow and later Master of the College, Regius Professor of Modern History, and Chancellor of the University of Durham. He reinstated history as an art by his writing, at once scholarly and elegant. He was a lover of the countryside, and tried to preserve its beauty by his gifts and advice. Keen and forceful in character but not lacking in kindness, he stood out from his contemporaries as a model of old-fashioned virtue. He died in 1962 at the age of eighty-six.
George Macaulay Trevelyan

Brass located on the north wall of the Ante-Chapel.
Inscription text by J.R.M. Butler.

Click on the thumbnail for a larger image.
| | | |
| --- | --- | --- |
| PREVIOUS BRASS | | NEXT BRASS |