Coutts Trotter
---
1837-87.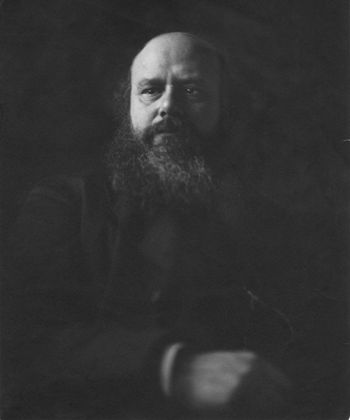 Dean; Vice-Master; Lecturer in Physics. Devoted time to University administration and improvements.
As a boy Trotter attended Faraday's lectures, which began the process of his acquisition of scientific knowledge. He was educated at Harrow School, and entered Trinity in 1855; he was elected a Fellow in 1861. In 1863 he was ordained to a curacy in Kidderminster, which he served for two years. He next went to Germany to study experimental physics under Helmholtz and Kirchoff and, after spending some time in Italy, returned to Trinity, where in 1869 he was appointed lecturer in physical science, a post which he held until 1884. He became Junior Dean in 1870, and Senior Dean in 1874. He was a Tutor at Trinity from 1872 to 1882, and was appointed Vice-Master in 1885. A Liberal in politics, he became an ardent university reformer. From 1874 onwards he was a member of the council of the Senate of the University, and at the time of his death was president of the Cambridge Philosophical Society, and vice-president of the council of Newnham College.

Trotter exerted a very remarkable influence in the affairs of Trinity and of the University, especially in connection with the constitutional changes brought about by the statutes of 1882 and in relation to natural science. This influence had for its basis his very wide and exact knowledge of, and his warm sympathy with, almost every branch of learning studied in the University. Not only with the natural sciences, but with the ancient and modern tongues, with history, philosophy, and art, he had an acquaintance, always real, and in some cases great. Hence in the conflicts taking place in the University between the competing demands of the several branches of learning, the advocates of almost every branch felt that they could appeal to Trotter as to one who could understand and sympathize with their wants. This exceptionally large knowledge was made still further effective by being joined to truthful and straightforward conduct, a patient, sweet temper, and a singular skill in framing academic regulations. Qualities such as these were greatly needed both in preparing for and in carrying out the changes formulated by the statutes of 1882, and especially, perhaps, in adjusting the growing claims of natural science. He played a leading part in the rapid growth of the natural sciences tripos and in the provision of laboratories, and was for many years an influential member of the board of medical studies. The greater part of Trotter's time and energy was devoted to University administration; and to him, very largely, were due the indubitable improvements effected in University matters during his short academic career. 'In fact, what was sometimes called in jest "the Trotterization of the University" was so complete that he had come to be regarded as indispensable' (Saturday Review, 1887). Besides pamphlets on University topics, he published little, though his researches were extensive.

After several years of ill health, Trotter died, unmarried, in Trinity on 4th December 1887 and was buried at Trumpington on the 8th. He left the most valuable part of his library, together with a large bequest in money, to Trinity, and the remainder of his library and his entire collection of philosophical instruments to Newnham College. Michael Foster
Memorial inscription
Translation

IN MEMORIAM VIRI DESIDERATISSIMI

COUTTS TROTTER, A.M.

SOCII TUTORIS VICE MAGISTRI
HANC TABELLAM POSUIT COLLEGIUM SUUM
FUIT ILLE AEQUITATIS SPECIMEN INGENIO AD MULTA VERSATILI LITTERIS MATHEMATICIS PHYSICIS ITA DEDITUS UT INTER VETEREM ET RECENTIOREM DOCTRINAM SEQUESTER ET INTERPRES HABERETUR IN NEGOTIIS PUBLICIS PRIMARIUS IN STATUTIS COLL. ET ACAD. CONSCRIBENDIS SUASOR IDEM ET IMPULSOR STRENUUS SOCIETATIS S.S. TRIN. ET NATURALIS SCIENTIAE TAM STUDIOSUS UT ALTERI ALTERAM CUM VELLET OPITULARI TESTAMENTO ET BENEFICIO AMBAS CONIUNXERIT

OBIIT PRID. NON. DEC. A.S. MDCCCLXXXVII AET. LI.
IN COEMETERIO DE TRUMPINGTON
RELLIQUIAE [sic] DEPOSITAE SUNT.



The College erected this brass in memory of the late lamented Coutts Trotter, MA, Fellow, Tutor and Vice-Master. He was a model of impartiality, and he turned his mind to many subjects: he was so devoted to literature, mathematics and physics that he was considered a mediator between and expositor of ancient and modern learning. A leading figure in public affairs, he was an active adviser and instigator in the redrafting of the Statutes of this College and of the University. He was so devoted to the Fellowship of Trinity and to the natural sciences that, wishing the one to support the other, he named them as joint beneficiaries in his will. He died on 4th December 1887 at the age of fifty. His remains are buried in Trumpington Cemetery.
Coutts Trotter

Brass located on the north wall of the Ante-Chapel.
Inscription text by Montagu Butler.

Click on the thumbnail for a larger image.
| | | |
| --- | --- | --- |
| PREVIOUS BRASS | | NEXT BRASS |