Ralph Vaughan Williams
---
1873-1958.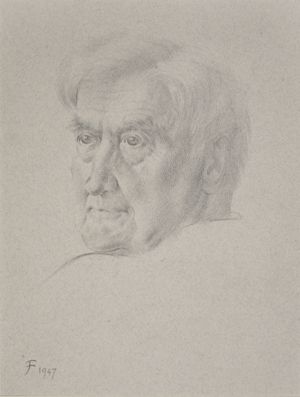 Composer, DMus. Served in the First World War.
Vaughan Williams was born in Down Ampney, Gloucestershire, whose name is immortalised in one of the composer's best-known hymn tunes. He started composing at a young age, and studied under Hubert Parry and Walter Parratt at the Royal College of Music before coming up to Trinity to take a MusB and to read for a BA in history.
At Cambridge, while continuing weekly lessons with Parry at the RCM, he studied composition with Charles Wood and organ with Alan Gray; after going down he went back to the Royal College for about a year, this time as a pupil of Stanford. He later studied with Bruch in Berlin.
He became a FRCO in 1898 and in 1901 took a Cambridge MusD. He assumed music editorship of the English Hymnal, which was published in 1906, and started collecting folk songs, working with Cecil Sharp whom he succeeded as president of the English Folk Dance and Song Society.
In 1914 he joined the Royal Army Medical Corps Territorial Force as a wagon orderly,and served in France and Greece. In 1917 he trained for a commission as a lieutenant in the Royal Garrison Artillery, with which he served on the Somme in 1918. After the armistice he was made director of music for the First Army of the British expeditionary force, organizing amateur music-making among the troops, as he had done informally throughout his army career.
In 1935, having previously refused a knighthood and other titular honours because of their obligations to authority, he accepted the Order of Merit; he also became an honorary Fellow of Trinity. Other honours included the Cobbett medal, the gold medal of the Royal Philharmonic Society, the Collard life fellowship, the Shakespeare prize (University of Hamburg), the Albert medal of the Royal Society of Arts, and the Howland memorial prize of Yale University; he received an honorary DMus at Oxford in 1919, and this was followed over the years by a clutch of similar awards from British universities.
Memorial inscription
Translation

RALPH VAUGHAN WILLIAMS O.M.

INTER GENTIS NOSTRAE MVSICOS PRAECLARVS QVI PER L ANNOS IN VARIIS OPERIBVS EXERCITATVS
ARTEM PATRIAM RVSTICI VIGORE CANTVS RECREAVIT
HVIVS COLLEGII OLIM DISCIPVLVS
SOCIVS TANDEM HONORIS CAVSA ELECTVS
OBIIT A.D.MCMLVIII AETATIS SVAE LXXXVI



Ralph Vaughan Williams, O.M., was pre-eminent among this country's composers, and for fifty years, while engaged in various works, he revived the music of Britain by an in-fusion of vigorous folk-song. He was formerly an under-graduate in the College, and eventually he was elected an Honorary Fellow. He died in 1958 at the age of eighty-five.
Ralph Vaughan Williams

Brass located on the north wall of the Ante-Chapel.
Inscription text by John Burnaby.

Click on the thumbnail for a larger image.
| | | |
| --- | --- | --- |
| PREVIOUS BRASS | | NEXT BRASS |