Arthur Woollgar Verrall
---
1851-1912.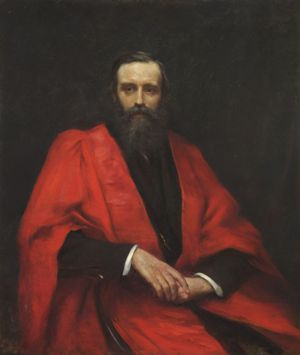 First Professor of English Literature; President of the Philological Society.
Before coming up to Trinity Arthur Verrall gained a scholarship at Wellington College, where he became a favourite pupil of the master, Edward White Benson, afterwards Dean of Trinity and later Archbishop of Canterbury. At Cambridge he was President of the Union Society and a member of the Apostles, and won many awards at Trinity, including the Chancellor's Medal, and was made a Fellow in 1874, while reading for the bar at Lincoln's Inn. He was called to the bar in 1876, having gained the Whewell scholarship for international law in 1875. In October 1877 he returned to Cambridge, where for thirty-four years he lectured at Trinity, until 1911, when he was chosen to be the first King Edward VII Professor of English Lliterature. He was a tutor at Trinity from 1889 until 1899.

Verrall was an inspiring teacher, both as lecturer and as supervisor, with a particularly fine reading voice. He was one of the first classical scholars regularly to use modern literature in his exposition of ancient poetry, and to investigate Greek plays as examples of drama rather than simply as texts requiring emendation. Among his pupils was F.M. Cornford, who remembered the excitement caused by his lectures and the ingenuity of the solutions he proposed to problems in the texts. His published works were chiefly on Greek tragedy, especially Euripides. He edited several plays of Aeschylus and Euripides and produced studies of Latin authors including Horace, Martial, Statius, and Propertius. His approach to Greek drama is most clearly shown in his Euripides the Rationalist (1895) and Essays on Four Plays of Euripides (1905).

Verrall's work was not confined to classical authors: his Sidgwick lecture (1909), entitled The prose of Scott, and his Clark lectures (1909) on the Victorian poets proved very popular. On his appointment to the new chair of English literature in 1911 he delivered a series of lectures on Dryden, but he had suffered increasingly from arthritis for fourteen years, and had to be carried to and from the lecture room. He prepared, but never gave, a course on Macaulay.
Memorial inscription
Translation

ARTVRVS WOOLLGAR VERRALL

SOCIVS TVTOR PROFESSOR
LITTERIS ET ANTIQVIS ET NOVIS TOTO ANIMO DEDITVS
IN COLLEGIO PER XXXV ANNOS LECTOR
MIRO ACVMINE MIRA ELOQVENTIA
AVDITORES TAMQVAM SIREN DEVINXIT
IDEM SCRIPTIS SVIS
AESCHYLI ARTEM INLVSTRAVIT
EVRIPIDIS FAMAM VINDICAVIT
DENIQVE IN ACADEMIA
LITTERARVM ANGLICARVM PROFESSOR
PRIMVS INSTITVTVS
MVNVS FELICITER VIX INCEPTVM
MORBI MORTISQVE NECESSITATE DEPOSVIT.
IN HOC VIRO SINGVLARES INGENII DOTES
COMMENDABAT MORVM SIMPLICITAS
COMMENDABAT EA FORTITVDO
QVA LONGOS CORPORIS DOLORES
SVI SEMPER IMMEMOR AMICORVM MEMOR
INVICTO ANIMO PERPESSVS EST.
NATUS NON.FEBR. MDCCCLI
OBIIT A.D.XIV KAL.IVL. MCMXII



Arthur Woollgar Verrall, Fellow, Tutor, and Professor, devoted himself whole-heartedly to the study of classical and modern literature. A College Lecturer for thirty-five years, he captivated his audience like a Siren with extraordinary cleverness and eloquence, and in his writings he cast light on the art of Aeschylus and defended the reputation of Euripides. He was made the first Professor of English Literature in the University; but soon after he had taken up the post with every good omen, a fatal illness obliged him to relinquish it. The high qualities of his character were rendered attractive alike by his simple manner and the bravery with which he bore bodily ailments for a long time without allowing his spirit to fail, ever forgetful of himself and mindful of others. He was born on 5th February 1851 and died on 18th June 1912. He died in 1991 at the age of eighty-two.
Arthur Woollgar Verrall

Brass located on the south wall of the Ante-Chapel.
Memorial text by James Duff Duff.

Click on the thumbnail for a larger image.
| | | |
| --- | --- | --- |
| PREVIOUS BRASS | | NEXT BRASS |