John Michal Kenneth Vyvyan
---
1907-91. Historian.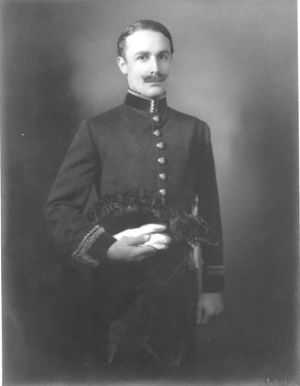 Michael Vyvyan came from the Cornish Vyvyan family who lived at Trelawarren on the southern shore of the Helford estuary. Among his ancestors were both politicians and pirates.
While he was at school at Uppingham, Michael started climbing with A.E. Foot, a stalwart teacher-cum-alpinist who started many. young mountaineers on their path. Michael also did some good routes with guides and became a fine all-round mountaineer. He was never in a hurry, unfussed, witty and with a steady ambition to climb big mountains.
In 1931 he joined the Diplomatic Service and was in Moscow during much of the 1930s. Three things dislodged Michael from the diplomatic ladder: his appreciation of the realities behind the communist façade and consequent disagreement with our British tendency, by the 30s, to tolerate and be soft with Stalin; his yearning to get to the high untrodden mountains of Central Asia; and the War.
In 1938 Vyvyan resigned from the Foreign Service and was elected to a fellowship at Trinity to teach modern history. On the outbreak of war he joined the army as a rifleman and was then commissioned in the Black Watch. Subsequently he served in the SAS and Commandos. After a three-year secondment back to the Foreign Office in 1944, he returned to Trinity where he remained almost until his death. He combined wide scholarship, a capacity for friendship with all ages, and romantic enthusiasms.
Memorial inscription
Translation

JOHN MICHAL KENNETH VYVYAN

HVIVS COLLEGII LECTOR TVTOR ET PER LIII ANNOS SOCIVS
MARTE FLAGRANTE MILES FORTIS AC STRENVVS
RERVM GESTARVM EVROPAEARVM FACVNDVS INTERPRES
MONTIVM HIMALAYORVM ANFRACTIBVS EXPLORATIS
MVLTOS CALLES ADITVSQVE POSTEA ASCENSVRIS APERVIT

OBIIT A.S. MCMXCI AET. SVAE LXXXIII

John Michal Kenneth Vyvyan was a Lecturer, Tutor, and for fifty-three years a Fellow of this College. He was a brave and energetic soldier in war-time, and an eloquent interpreter of European history. Through his explorations in the Himalayas he opened up many mountain ways and approaches for later climbers. He died in 1991 at the age of eighty-two.
John Michal Kenneth Vyvyan

Brass located on the south wall of the Ante-Chapel.
Memorial text by Neil Hopkinson.

Click on the thumbnail for a larger image.
| | | |
| --- | --- | --- |
| PREVIOUS BRASS | | NEXT BRASS |