James Whitbread Lee Glaisher, FRS
---
1848-1928. FRS.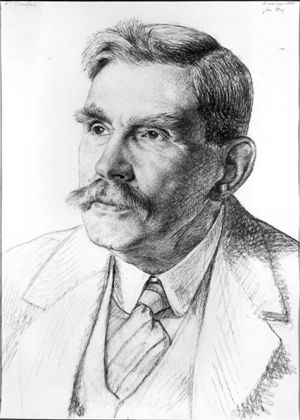 Lecturer in Mathematics; collector of ceramics; an early enthusiast of the penny-farthing bicycle.
James Whitbread Lee Glaisher, FRS, FRAS, known as Lee, was the son of the meteorologist, mathematician and astronomer James Glaisher.
He was educated at St Paul's School before Trinity, where he was second wrangler in 1871 and immediately elected to a fellowship. He soon began campaigning for the reform of Tripos, particularly in relation to the teaching of pure mathematics. He taught at Cambridge all his life.
He is now remembered mostly for work in number theory that anticipated later interest in the detailed properties of modular forms. He published widely over other fields of mathematics and astronomy. He was the editor-in-chief of Messenger of Mathematics. He was also Wittgenstein's Tutor.
In the same year in which he graduated Glaisher joined the Royal Astronomical Society, beginning a long association with that Society. In 1872 he joined the London Mathematical Society. He went on to hold high office in both, and also played an important role in the British Association for the Advancement of Science. His presidential address, given at Leeds on 4 September 1890, was on Mathematical and Physical Science. In this address he explained what he considered pure mathematics to be:
By pure mathematics I do not mean the ordinary processes of algebra, differential and integral calculus etc., which every worker in the so-called mathematical sciences should have at his command. I refer to the abstract sciences which do not rest upon experiment in the ordinary sense of the term. Their fundamental principles are derived from observations so simple as to be almost axiomatic. To this class belong the theories of magnitude and position, the former, including all that relates to quantity, whether discrete or continuous, and the latter to all branches of geometry.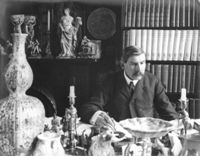 During his time at Cambridge Glaisher was a keen cyclist, riding a 'penny-farthing', and also a keen walker, striding out at a speed which few could match. He also found great pleasure in travelling, and enjoyed frequent visits to the continent and to the United States. A distinguished collector of European pottery, he lent items to the Fitzwilliam Museum to start its ceramics collection, and became its Honorary Keeper of Ceramics in 1916 and a staunch supporter of Sir Sydney Cockerell. On Glaisher's death the Fitzwilliam acquired his extensive collection of English and continental pottery. His vast library was bequeathed to Cambridge University.
Glaisher wrote over 400 articles on his main interests of astronomy, special functions, calculation of numerical tables, number theory, and the history of mathematics. His historical interests were on the early development of numerical computation, Stevin and the beginnings of the decimal system, Napier, Briggs and the beginnings of logarithms as well as the mathematical notation + and -. He applied special functions to problems in number theory, in particular representations of integers as sums of squares.
Memorial inscription
Translation

IACOBVS WHITBREAD LEE GLAISHER

HVIVS COLLEGII E SOCIIS, QVORVM PRINCEPS DECESSIT, ET SVO TEMPORE TVTORIS OFFICIO FVNCTVS, VIR MATHEMATICAE ASTRONOMIAEQVE PERITISSIMVS, QVIBVS IN STVDIIS ASSIDVVS NE OTIVM QVIDEM TORPERE [sic] PASSVS EST SED OPERIS FIGLINI DOCTVS EXISTIMATOR, INDAGATOR STRENVVS, LARGVS DONATOR INCLARVIT, ANIMI ET CORPORIS IN SENECTVTE IVVENALIS, MITIS ET ERGA OMNES COMIS INGENII ELECTIS AMICIS TOTVS DEDITVS, NATVS AN.MDCCCXLVIII MENS.NOV. D.V.
OBIIT AN.MDCCCCXXVIII MENS.DEC. D.VII

James Whitbread Lee Glaisher, Fellow and, at his death, Senior Fellow of the College; he also took his turn as Tutor. He was a very skilled mathematician and astronomer. Unremitting in his scholarly work, he was never inactive, even during his leisure hours, winning fame in the field of ceramics as scholarly connoisseur, tireless investigator and generous donor. In old age he had the mind and body of a young man. He was gentle and amiably disposed to all, but to his chosen friends wholly devoted. He was born on 5th November 1848 and died on 7th December 1928.
James Whitbread Lee Glaisher

Brass located on the south wall of the Ante-Chapel.
Inscription text by A.E. Housman.

Click on the thumbnail for a larger image.