Ludwig Josef Johann Wittgenstein
---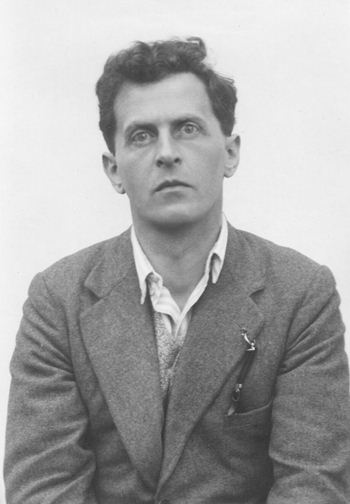 1889-1951. Professor of Philosophy.
Bornon 26 April 1889 in Vienna into one of Europe's wealthiest families, Wittgenstein was the youngest of eight children. The family was of Jewish extraction, but brought up as non-observant Catholics. Ludwig was educated at home up to the age of fourteen, when he was sent to a boarding school in Linz specialising in scientific subjects. Adolf Hitler attended the same school, in a lower class, but there is no evidence that the two met. Wittgenstein studied in Berlin and at Manchester University before coming to Trinity as an Extranumerary Pensioner in 1912. He became a Fellow in 1930 but resigned his fellowship six years later, only to have it renewed in 1939.
He left academia several times: serving as an officer on the frontline during World War I, where he was decorated a number of times for his courage; teaching in schools in remote Austrian villages, where he encountered controversy for hitting children when they made mistakes in mathematics; and working during World War II as a hospital porter in London, where he told patients not to take the drugs they were prescribed, and where no-one knew he was one of the world's most famous philosophers. He described philosophy, however, as "the only work that gives me real satisfaction."
His principal work was in logic, the philosophy of mathematics, the philosophy of mind, and the philosophy of language. He was Professor in Philosophy at Cambridge from 1939 until 1947. In his lifetime, he published just one book review, one article, a children's dictionary, and the 75-page Tractatus Logico-Philosophicus (1921). In 1999, his posthumously published Philosophical Investigations (1953) was ranked as the most important book of 20th-century philosophy by the Baruch Poll, standing out as "...the one crossover masterpiece in twentieth-century philosophy, appealing across diverse specializations and philosophical orientations". Bertrand Russell described him as "the most perfect example I have ever known of genius as traditionally conceived, passionate, profound, intense, and dominating".
His philosophy is often divided between his early period, exemplified by the Tractatus, and later period, articulated in the Philosophical Investigations. The early Wittgenstein was concerned with the logical relationship between propositions and the world, and believed that by providing an account of the logic underlying this relationship he had solved all philosophical problems. The later Wittgenstein rejected many of the conclusions of the Tractatus, arguing that the meaning of words is constituted by the function they perform within any given language-game.
Wittgenstein's influence has been felt in nearly every field of the humanities and social sciences, yet there are widely diverging interpretations of his thought. In the words of his friend and colleague Georg Henrik von Wright: "He was of the opinion... that his ideas were generally misunderstood and distorted even by those who professed to be his disciples. He doubted he would be better understood in the future. He once said he felt as though he were writing for people who would think in a different way, breathe a different air of life, from that of present-day men."
Wittgenstein died on 29 April 1951 and is buried in the Ascension Parish Burial Ground, Cambridge.
Wikipedia
Memorial inscription
Translation

LVDOVICVS WITTGENSTEIN

HVIVS COLLEGII SOCIVS
IN ACADEMIA PHILOSOPHIAE PER VIII ANNOS PROFESSOR PHILOSOPHANDI NOVAM VIAM MVLTIS MONSTRAVIT RATIONEM EX VINCVLIS ORATIONIS VINDICANDAM ESSE RERVM NATVRAM SIC MAGIS MAGISQVE PERNOSCI SENSIT ATQVE EXEMPLIS DOCEBAT VERVM ADSEQVENDO SINGVLARI INTEGRITATE DEDITVS
OBIIT A.D.MCMLI AETATIS SVAE LXIII

Fellow of this College and for eight years Professor of Philosophy in the University, Ludwig Wittgenstein pioneered for many a new way of philosophical thinking. He realised and gave examples to show that reason should be freed from the snares of language, and that in this way the true nature of the world could be understood with increasing clarity. He devoted himself to seeking out the truth with extraordinary strength of purpose. He died in 1951 at the age of sixty-two.
Ludwig Wittgenstein

Brass located on the north wall of the Ante-Chapel.
Inscription text by John Burnaby.

Click on the thumbnail for a larger image.
| | | |
| --- | --- | --- |
| PREVIOUS BRASS | | NEXT BRASS |