William Aldis Wright
---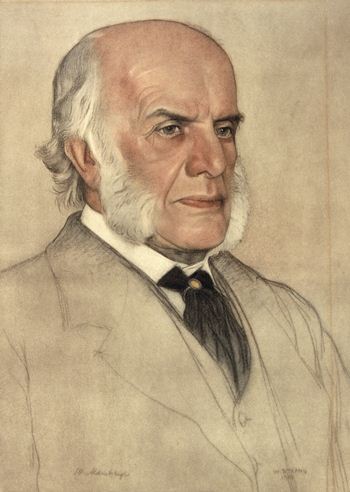 1831-1914. Shakespearian and biblical scholar. Senior Bursar; Librarian; Vice-Master.
Wright was educated at Beccles Grammar School in Suffolk and Trinity. As a nonconformist, Wright was ineligible for election to a Trinity fellowship until 1878, but became Librarian and Senior Bursar of Trinity before that date. Duly elected Fellow in 1878, he became Vice-Master in 1888, holding the post until his death. Although one of the great figures in the university, and frequently a valuable ally for the university library, he took no part latterly in university politics: he neither taught nor lectured.
He was one of the editors of the Journal of Philology from its foundation in 1868, and was secretary to the Old Testament revision company from 1870 to 1885. He edited the plays of Shakespeare published in the "Clarendon Press" series, also with W.G. Clark the "Cambridge" Shakespeare and the "Globe" edition. He published a facsimile of the Milton manuscript in Trinity College Library, and edited Milton's poems with critical notes.
He was the intimate friend and literary executor of Edward FitzGerald, whose Letters and Literary Remains he edited in 1889. This was followed by the Letters of Edward FitzGerald to Fanny Kemble, his Miscellanies, More Letters of Edward FitzGerald, and The Works of Edward FitzGerald. He edited the metrical chronicle of Robert of Gloucester, Generydes for the Early English Text Society, Catalogue of the Syriac manuscripts in the British Museum, and other texts.
He was buried in the Parish of the Ascension Burial Ground in Cambridge.
Memorial inscription
Translation

GVILELMVS ALDIS WRIGHT

A.B. A.S.MDCCCLVIII
A.M. A.S.MDCCCLXI
COLLEGII HVIVS DISCIPVLVS A.S.MDCCCLIII
BIBLIOTHECARIVS A.S.MDCCCLXIII - MDCCCLXX
THESAVRARIVS SENIOR A.S.MDCCCLXX - MDCCCXCV
SOCIVS A.S.MDCCCLXXVIII
VICE-MAGISTER A.S.MDCCCLXXXVIII - MDCCCCXIV
VNVS E VIRIS VETERI TESTAMENTO
ANGLICE VERSO RECENSENDO PRAEFECTIS
ET EORVNDEM A SECRETIS
NATVS KAL.SEXT. A.S.MDCCCXXXI
OBIIT A.D.XIV KAL.IVN. A.S.MDCCCCXIV
HANC TABVLAM POSVIT COLLEGIVM SVVM



Having matriculated in 1853 William Aldis Wright received his B.A. in 1858, and his M.A. in 1861. He was Librarian 1863-70 and Senior Bursar 1870-95. Elected a Fellow in 1878, he was Vice-Master 1888-1914. He was a member and secretary of a group in charge of revising the English translation of the Old Testament. He was born on 1st August 1831 and died on 19th May 1914. His College set up this brass.
William Aldis Wright

Brass located on the north wall of the Ante-Chapel.
Inscription text by Henry Montagu Butler.

Click on the thumbnail for a larger image.
| | | |
| --- | --- | --- |
| PREVIOUS BRASS | | NEXT BRASS |