Harry Chester Goodhart
---
1858-95. Lecturer in Classics.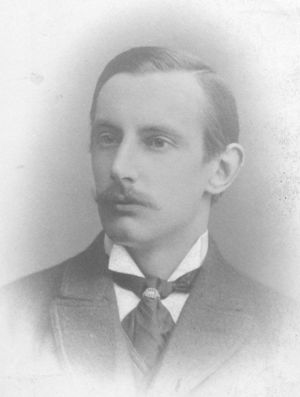 Tutor to the Duke of Clarence. Football International.
Goodhart was educated at Eton and Cambridge. He became a Fellow of Trinity and lecturer between 1884 and 1890 and acceded to the Chair of Humanities at Edinburgh University in 1890. He published a critical edition of the 8th book of Thucydides's history of the Peloponnesian War.
He played football at school and returned to the game with the Old Etonians FC, also playing with the Corinthians FC team. He was one of four men who became the 99th players to appear for England. He played as a forward on the England team for just over a month.
Memorial inscription
Translation

M.S.
HARRY CHESTER GOODHART

QUI IAM SCHOLAE ETONENSIS ALUMNUS
SEU DISCEBANT PUERI SEU LUDEBANT
PALMAM INTER AEQUALES TULIT,
DEINDE IN HANC DOMUM RECEPTUS
CUM SPEM PUERITIAE IMPLEVISSET ADULESCENS
COLLEGII SOCIUS A.D.MDCCCLXXXI ELECTUS
ET PER DECENNIUM INCOLA
IN SCRIPTORIBUS ANTIQUIS ENARRANDIS
ET IN HISTORIA DOCENDA
IUVENTUTI NOSTRAE PLURIMUM CONTULIT,
MOX EDINAM IN CAMPUM LATIOREM VOCATUS
IN ACADEMIA EDINENSI LINGUAE LATINAE PROFESSOR
EGREGIUM SUI SPECIMEN CUM VIX DEDISSET
IMMATURA UT LOQUIMUR MORTE ABREPTUS
NECESSARIIS AMICIS DISCIPULIS
EXEMPLUM RELIQUIT ET MEMORIAM.
NATUS EST A.D.XVI KAL.AUG. MDCCCLVIII
OBIIT A.D.XI KAL.MAI.MDCCCXCV.

Sacred to the memory of Harry Chester Goodhart. As a schoolboy at Eton College he won the palm among his contemporaries at both work and games; as a young man at Trinity he fulfilled his childhood promise and was elected a Fellow in 1881. During his ten-year residence at Trinity he greatly benefited the undergraduates by his expositions of classical authors and by his teaching of history. He was then called to a wider sphere of activity at Edinburgh as Professor of Latin. When he had scarcely given a sample of his outstanding genius, he was snatched away by an early death (as we say), leaving to his relations, friends and pupils his example and his memory. He was born on 17th July 1858 and died on 21st April 1895.
Harry Chester Goodhart

Brass located on the south wall of the Ante-Chapel.
Memorial text by James Duff Duff.

Click on the thumbnail for a larger image.