Andrew Sydenham Farrar Gow
---
1886-1978. University Reader and Lecturer in Classics.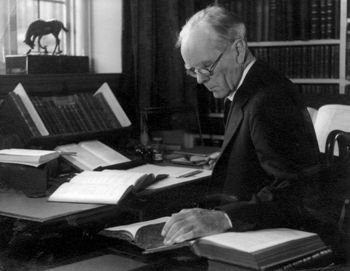 Winner of the Porson Prize.
He was associated with Trinity all his life, being a Fellow from 1911 on, interrupted only by a spell (1914-1925) as Assistant Master of Eton. He was the Brereton Reader in Classics from 1947 to 1951.
Gow's notable work includes editions of Theocritus and Machon, and the Greek Anthology. He was closely associated with A.E. Housman, and was a friend of A.F. Scholfield, a classical scholar who was Librarian of Cambridge University Library. While at Eton, Gow was George Orwell's tutor. Orwell consulted him in 1927 when he was planning to become a writer, and maintained contact with him.
Many of the inscriptions on the memorial brasses in Trinity Chapel were composed by Gow.
Memorial inscription
Translation

ANDREW SYDENHAM FARRAR GOW

huius collegii discipulus et per annos LVIII socius
pueros Etonenses docendo iuventutem dedit, in
collegii societatem revocatus lectoris et tutoris officia
diligenter praestitit, Theocriti aliorumque illius
aetatis poetarum carmina accurate recensuit copiose
illustravit. idem picturae et sculpturae existimator
spectatus exempla insignia a se congesta academiae
legavit. aegrotationem diuturnam constanter
perpessus obiit a.s. MCMLXXVIII suae aetatis XCII.

Andrew Sydenham Farrar Gow was a Scholar of the College and a Fellow for fifty-eight years. He devoted his early years to teaching at Eton; recalled as a Fellow, he industriously carried out the duties of Lecturer and Tutor. He meticulously edited and elucidated at length the works of Theocritus and other Hellenistic poets. He was also a distinguished connoisseur of painting and sculpture and bequeathed notable works collected by himself to the University. Having suffered a long illness with fortitude he died in 1978 at the age of ninety-one.
Andrew Sydenham Farrar Gow

Brass located on the north wall of the Ante-Chapel.
Inscription text by John Burnaby / Francis Henry Sandbach.

Click on the thumbnail for a larger image.