Alfred Edward Housman
---
1859-1936.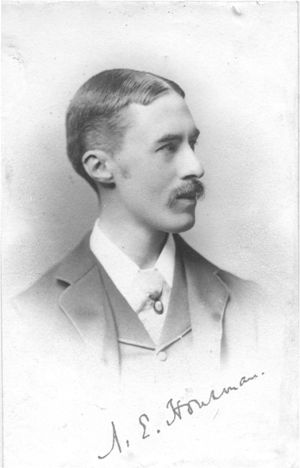 Kennedy Professor of Latin; poet.
The eldest of seven children, A.E. Housman was born near Bromsgrove. His mother died on his twelfth birthday, and his father, a country solicitor, later remarried.
Housman was educated first at King Edward's School, Birmingham, then Bromsgrove School, where he acquired a strong academic grounding and won prizes for his poetry. In 1877 he won an open scholarship to St John's College, Oxford, where he studied classics. Although by nature rather withdrawn, Housman formed strong friendships with two roommates, Moses Jackson and A.W. Pollard. Jackson became the great love of Housman's life, though the latter's feelings were not reciprocated, as Jackson was heterosexual. Housman obtained a first in classical Mods in 1879, but his immersion in textual analysis, particularly with Propertius, led him to neglect ancient history and philosophy, which formed part of the Greats curriculum, and thus he failed to obtain a degree. Though some explain Housman's unexpected failure in his final exams as a result of Jackson's rejection, most biographers adduce a variety of reasons, indifference to philosophy, overconfidence in his praeternatural gifts, a contempt for inexact learning, and enjoyment of idling away his time with Jackson, conjoined with news of his father's desperate illness, as the more immediate and germane causes. The failure left him with a deep sense of humiliation, and a determination to vindicate his genius.
After Oxford, Jackson got a job as a clerk in the Patent Office in London and arranged a job there for Housman as well; they shared a flat with Jackson's brother Adalbert. Moses moved to India in 1887. When Jackson returned briefly to England in 1889 to marry, Housman was not invited to the wedding and knew nothing about it until the couple had left the country. Housman continued pursuing classical studies independently and published scholarly articles on such authors as Horace, Propertius, Ovid, Aeschylus, Euripides and Sophocles. He gradually acquired such a high reputation that in 1892 he was offered the professorship of Latin at University College London, which he accepted. Many years later, the UCL academic staff common room was dedicated to his memory as the Housman Room.
The pleasures Housman enjoyed included gastronomy, flying in aeroplanes, and frequent visits to France, where he read "books which were banned in Britain as pornographic". A fellow don described him as being "descended from a long line of maiden aunts".
Although Housman's early work and his sphere of responsibilities as professor included both Latin and Greek, he began to focus his energy on Latin poetry. When asked later why he had stopped writing about Greek poetry, he responded, "I found that I could not attain to excellence in both." In 1911 he took the Kennedy Professorship of Latin at Trinity, where he remained for the rest of his life. Classics Professor G.P. Goold at University College wrote of Housman's scholarly accomplishments: "The legacy of Housman's scholarship is a thing of permanent value; and that value consists less in obvious results, the establishment of general propositions about Latin and the removal of scribal mistakes, than in the shining example he provides of a wonderful mind at work... He was and may remain the last great textual critic." During 1903-1930 he published his critical edition of Manilius's Astronomicon in five volumes. He also edited works of Juvenal (1905) and Lucan (1926). Many colleagues were unnerved by his scathing critical attacks on those whom he found guilty of shoddy scholarship. In his paper The Application of Thought to Textual Criticism (1921) Housman stated: "A textual critic engaged upon his business is not at all like Newton investigating the motion of the planets: he is much more like a dog hunting for fleas." He declared many of his contemporary scholars to be stupid, lazy, vain, or all three, proclaiming: "Knowledge is good, method is good, but one thing beyond all others is necessary; and that is to have a head, not a pumpkin, on your shoulders, and brains, not pudding, in your head." His younger colleague A.S.F. Gow quotes examples of these attacks, noting that they "were often savage in the extreme." Gow also relates how Housman intimidated his students, sometimes reducing them to tears. According to Gow, Housman could never remember his students' names, maintaining that "had he burdened his memory by the distinction between Miss Jones and Miss Robinson, he might have forgotten that between the second and fourth declension." One notable pupil was Enoch Powell. Housman found his true vocation in classical studies and treated poetry as a secondary activity. He did not speak about his poetry in public until 1933 when he gave a lecture, The Name and Nature of Poetry, in which he argued that poetry should appeal to emotions rather than to the intellect.
A.E. Housman's best-known work, A Shropshire Lad, was mostly written in London - much of it before Housman had every visited Wenlock Edge. The cycle of 63 poems was rejected by several publishers, and Housman published it at his own expense in 1896. It has remained in print ever since. The poems are pervaded by deep pessimism and preoccupation with death, without religious consolation.
Into my heart an air that kills
From yon far country blows:
What are those blue remembered hills,
What spires, what farms are those?
That is the land of lost content,
I see it shining plain,
The happy highways where I went
And cannot come again.
(A Shropshire Lad, XL)
Memorial inscription
Translation

HOC TITVLO COMMEMORATVR

ALFRED EDWARD HOVSMAN

PER XXV ANNOS LINGVAE LATINAE PROFESSOR KENNEDIANVS ET HVIVS COLLEGII SOCIVS QVI BENTLEII INSISTENS VESTIGIIS TEXTVM TRADITVM POETARVM LATINORVM TANTO INGENII ACVMINE TANTIS DOCTRINAE COPIIS EDITORVM SOCORDIAM
TAM ACRI CAVILLATIONE CASTIGAVIT VT HORVM STVDIORVM
PAENE REFORMATOR EXSTITERIT
IDEM POETA TENVI CARMINVM FASCICVLO
SEDEM SIBI TVTAM IN HELICONE NOSTRO VINDICAVIT
OBIIT PRID.KAL.MAI.
A.S.MDCCCCXXXVI AETATIS SVAE LXXVII

This inscription commemorates Alfred Edward Housman, who was for twenty-five years Kennedy Professor of Latin and Fellow of the College. Following in Bentley's footsteps he corrected the transmitted text of the Latin poets with so keen an intelligence and so ample a stock of learning, and chastised the sloth of editors so sharply and wittily, that he takes his place as the virtual second founder of textual studies. He was also a poet whose slim volumes of verse assured him of a secure place on the British Helicon. He died on 30th April 1936 at the age of seventy-six.
A.E. Housman

Brass located on the south wall of the Ante-Chapel.
Inscription text by A.S.F. Gow.

Click on the thumbnail for a larger image.