Thomas Percy Hudson
---
1832-1921. Rural Dean of Helmsley.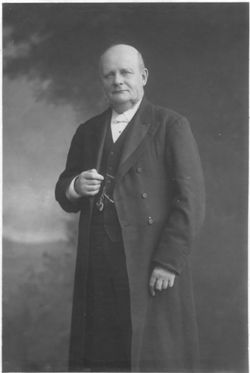 Assumed the name Pemberton on his wife's accession to Trumpington Hall.
Dr Thomas Percy Hudson was an undergraduate at Trinity and a Fellow and tutor of the College from 1856 until his marriage in 1870 to Patience Campbell, who thereafter inherited Pemberton Hall in Trumpington. Both husband and wife changed their names to Pemberton, as a condition of the inheritance.
Under his own name he published Elementary trigonometry in 1862.
He was Rector of the Trinity living of Gilling in North Yorkshire from 1870 to 1901; there is a memorial tablet to him in the church. He was appointed Canon Succentor of York Minster in 1879,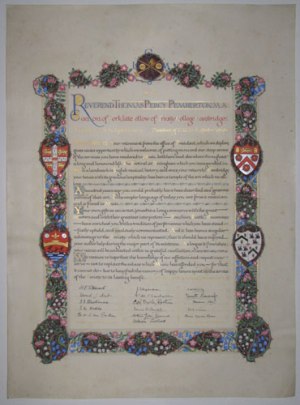 and became Rural Dean of Helmsley. A gifted musician, he founded the Hovingham Music Festival, which took place each year from 1887 to 1906, with performances by world class musicians such as the violinist Joseph Joachim. He was also a contributor to A Dictionary of Music and Musicians.
He was a member of the Cambridge University Musical Society for 68 years, and President of C.U.M.S. from 1905 to 1920.
When living at Trumpington Hall, he rejected the post of Master of Magdalene College on the grounds that the Hall was more comfortable. Canon and Mrs Pemberton made important contributions to Trumpington, including giving the land for the village hall which opened in 1908. He took part in the vote to admit women to Cambridge University in 1920, being wheeled to the Senate House in a bath chair. Canon Pemberton died in Cambridge in 1921, his only son Francis, also a Trinity undergraduate, having been killed in action in Flanders in 1914.
Memorial inscription
Translation

THOMAS PERCY HUDSON A.M.

QUI POSTEA PEMBERTON NUNCUPABATUR
CANON' EBOR COLLEGII OLIM SOCIUS ET TUTOR
PER VI LUSTRA RECTOR ECCLE. DE GILLING
DEINDE IN SUIS AGRIS IUXTA TRUMPINGTON
OTIO INOTIOSO REDDITUS
PRID. KAL. FEB. MDCCCCXXI ANNO AETATIS SUAE LXXXVIIIO
NOVA STOLA DONATUS
CITHARAEDORUM CAELESTIUM SYMPHONIAM AUDIT

Thomas Percy Hudson, M.A., later called Pemberton, was Canon of York Minster and sometime a Fellow and Tutor of the College. He was Rector of Gilling for thirty years and then returned to his estate near Trumpington to a very busy retirement. On 31st January 1921 at the age of eighty-seven he donned a new robe and heard the music of the celestial harpers.
Thomas Percy Hudson

Brass located on the south wall of the Ante-Chapel.
Inscription text by Henry Francis Sandbach.

Click on the thumbnail for a larger image.