Alan Gray
---
1855-1935. Organist and composer. LLM MusD.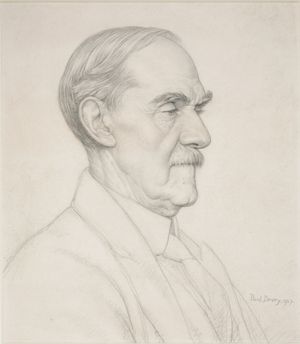 Born in York, Gray was educated at St Peter's School, York, and Trinity. From 1883 until 1893 he was Director of Music at Wellington College. In 1893 he returned to Cambridge to be organist at Trinity College, and remained organist there until 1930.
His compositions include Evening Canticles in F minor for double choir, an anthem What are these that glow from afar?, and various hymn descants.
Dr Gray drew up the specification for the new Trinity organ which was completed by Harrison and Harrison in 1913. There were four manuals, with 61 notes, and two and a half octaves of concave and radiating pedals of thirty notes. The seven Father Smith stops were preserved, alongside 67 other speaking stops, with 17 couplers, making a total of 91 drawstops. Among the stops were Ophicleide and Bombardon on the Pedal organ, Clarabella and Salicet on the Choir organ, Sub Bordun (32') and Contra Tromba on the Great, and a Tuba on the Solo. The lowest pipes of the Pedal 32' remained in the Ante-Chapel as they would not fit in the organ loft. Albert Schweitzer gave a recital on the instrument in 1922. This organ was superseded by the present Metzler organ in 1976.
Gray's son Edward Jasper was an Entrance Exhibitioner at Trinity in 1916, but was called up and died in 1918. He is commemorated in the First World War Memorial in the Chapel.
Memorial inscription
Translation

M.S. VIRI IN MVSICA PRAECLARI ALANI GRAY

QVI PER XXXVII ANNOS IN HOC COLLEGIO
ORGANISTAE MVNERE SVMMA CVM LAVDE FVNCTVS SOCIVS HONORIS CAVSA ELECTVS EST
DIGNITATE BENIGNITATE STATVRA EMINEBAT
NATVS EST IN VRBE EBOR. A.S.MDCCCLV
OBIIT APVD NOS A.S.MDCCCCXXXV DESIDERATISSIMVS

Sacred to the memory of Alan Gray, famous for his music, who served as Organist in this College for thirty-seven years, winning great praise, and was made an Honorary Fellow. He was outstanding in dignity, kindliness and stature. He was born in York in 1855 and died here in 1935. He is greatly missed.
Alan Gray

Brass located on the north wall of the Ante-Chapel.
Inscription text by John Burnaby / Francis Henry Sandbach.

Click on the thumbnail for a larger image.