James Lemprière Hammond
---
1829-80. Senior Bursar.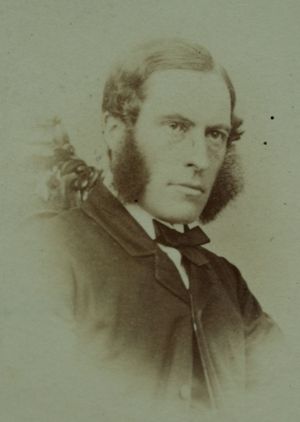 Governor and Almoner of Christ's Hospital. He superintended College improvements under Whewell's Mastership.
Hammond's father, Jean Hammond, was Bailiff of Jersey; his sideburns were even more impressive than those of his son.
Memorial inscription
Translation

In memoriam

Jacobi Lemprière Hammond

Hujus Collegii Socii Tutoris Thesaurarii Triumvirorum
Scholis veteribus reformandis Assessoris
Viri in Officiis tam Academicis quam publicis
peragendis diligentissimi sollertissimi.
Amico jucundissimo Monumentum posuerunt Amici maerentes

Obiit A.D. MDCCCLXXX Aetatis LI

In memory of James Lemprière Hammond, Fellow, Tutor and Bursar of the College. He was Assessor of the Triumvirate for reforming the Old Schools. He was very hard-working and diligent in both his academic and his public duties. His grieving friends erected this memorial to a most agreeable companion. He died in 1880 at the age of fifty.
James Lemprière Hammond

Brass located on the south wall of the Ante-Chapel.

Click on the thumbnail for a larger image.