Reginald Vere Laurence
---
1876-1934. Historian; Dean; Tutor.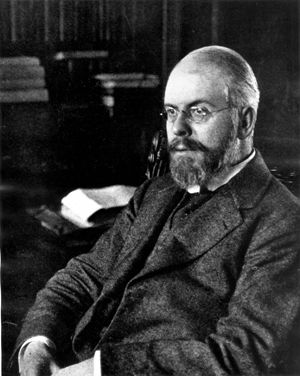 Among his publications he co-edited The History of Freedom and Lectures on the French Revolution.
Memorial inscription
Translation

REGINALDVS VERE LAVRENCE

HVIVS COLL. PER ANNOS XXXIII SOCIVS, CVI VARIE ET
ASSIDVE OPERAM SVAM NAVAVIT, MVNERIBVS EX
ORDINE FVNCTVS LECTORIS, DECANI IVNIORIS, TVTORIS,
VTILISSIME VERO THESAVRARII IVNIORIS ANNIS BELLO
INQVIETATIS, QVIBVS NATVRALI INGENII SOLLERTIA
RES DIFFICILLIMAS AD PROSPEROS EXITVS DVCENDI
CAPAX EXSTITIT. VIR ERAT AD HISTORIAE STVDIVM NATVS
DOCTOR DISCIPVLIS ACCEPTVS, COLLEGIS AMICISQVE
DVLCE CONVICTVS MEMBRVM, CONVIVA IVCVNDISSIMVS
NATVS A.D.III ID.IVL. MDCCCLXXVI
OBIIT A.D.XV KAL.NOV. MDCCCCXXXIV

A Fellow for thirty-four years, Reginald Vere Laurence devoted all his energies to the College in various tasks: he served successively as Lecturer, Dean of College, Tutor, and as a very capable Junior Bursar during the unsettled years of the First World War. In these tasks he excelled with his natural intelligence and his ability to bring the most difficult problems to successful conclusions. A born historian and teacher, popular among the students, he was a welcome member of his circle of colleagues and friends, and an agreeable companion. He was born on 13th July 1876 and died on 17th October 1934.
Reginald Vere Laurence

Brass located on the south wall of the Ante-Chapel.
Inscription text by A.E. Housman.

Click on the thumbnail for a larger image.