Gaillard Thomas Lapsley
---
1868-1949.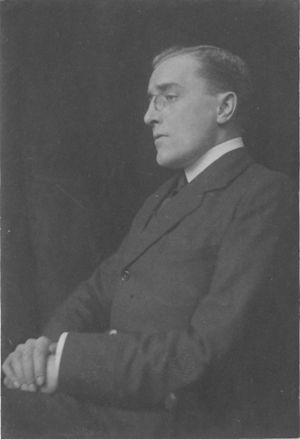 Reader in Constitutional History; Tutor. A friend of Henry James and Edith Wharton.
Lapsley's publications include:
The county palatine of Durham; a study in constitutional history (New York, 1900);
The problem of the north: a study in English border history (New York, 1900);
Cornage and Drengage (New York, 1904);
Religious difficulties and doubts of the present generation: a paper read before the Annual Meeting of Schoolmasters and College Tutors and Lecturers held at Cambridge, January 12th, 1907 (Cambridge, 1907);
The background of King Edward's foundation : a lecture delivered in ... Trinity College, Cambridge, on July 7, 1917, on the occasion of the celebration of the sexcentenary of the establishment of the King's Scholars ... / by Edward II (Cambridge, 1918);
The America of today : being lectures delivered at the local lectures summer meeting of the University of Cambridge, 1918 (Cambridge, 1919);
Selected Essays of Frederic William Maitland (Cambridge, 1936); Eternal passion in English poetry (New York & London, 1939, with Edith Wharton and Robert Norton);
Crown, community, and Parliament in the later Middle Ages (Oxford, 1951).

Memorial inscription
Translation

Hoc titulo commemoratur

GAILLARD THOMAS LAPSLEY

qui per XLV annos huius collegii socius lectoris
tutorisque officiis functus legum et civitatis
nostrarum origines scribendo praelegendo
illustravit. Civis americanus consuetudinum
brittanicarum [sic] amator, in patriam tandem regressus,
A.S. MCMXLIX aetatis suae LXXVII demortuus est.

This inscription commemorates Gaillard Thomas Lapsley. A Fellow of the College for forty-five years, he served as Lecturer and Tutor, and in his writing and lecturing shed light on the origins of our laws and constitution. An American citizen, he loved the British way of life. At length he returned to his native country, where he died in 1949 at the age of seventy-six.
Gaillard Thomas Lapsley

Brass located on the north wall of the Ante-Chapel.
Memorial text by A.S.F. Gow.

Click on the thumbnail for a larger image.