Frederic William Maitland, FBA
---
1850-1906.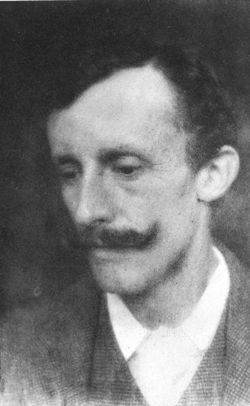 Historian of English law. Fellow of Downing College; honorary Fellow of Trinity.
Maitland came to Trinity from Eton; he rowed for the College and ran for the University, graduating in the new Moral Sciences Tripos which had been introduced in the 1860s. He was President of the Cambridge Union and a member of the Apostles, and mentored both at Cambridge and afterwards by Henry Sidgwick.
He was called to the Bar and wrote on property law before being elected to a new readership in law, endowed by Sidgwick. Maitland was effectively the founder of the Selden Society, which was formed in 1887 to publish materials for the history of English law (he became its first literary director in 1895), and in 1888 he was elected to the Downing Chair of English Law.
Among Maitland's many publications perhaps the most important was the History of English law before the time of Edward I (1894), written with modest input from Sir Frederick Pollock. He received honorary doctorates from Cambridge, Glasgow and Oxford; he was one of the founding Fellows of the British Academy, and was made an Honorary Fellow of Trinity and Honorary Bencher of Lincoln's Inn—'one of the vacant bishoprics would have been less of a surprise'. The prime minister, Balfour, offered him the Regius Chair of Modern History in Cambridge, but Maitland declined by return of post, explaining to friends that he was happy with 'such colleagues as it has happened to few to have'. His life was dogged with illness, which necessitated his spending the winter months in hot climates; he died in the Canary Islands.
Memorial inscription
Translation

Conservetur apud nos pia memoria
Viri doctissimi et iucundissimi

FREDERICI GULIELMI MAITLAND LL.D.

in Collegio nostro olim Discipuli Scholaris,
proxime Honoris Causa Socii,
in Academia Legum Angliae Professoris.

qui quam vividis ingeni[i] et eruditionis luminibus iuris Anglici vetustioris monumenta, antiquitate sua partim obsoleta partim incrementis et interpretamentis obscurata, adeo eruerit atque explanaverit ut paene novam quandam scientiam ab ipso incohatam secuturis non difficilem reliquerit. declarant cum ipsius opera tum ubique terrarum laus in hoc genere hominum studiosorum.

qualis ipse fuerit, quanta animi venustate, quam festiva eloquentia, in convictu quam dulcis, adversus valetudinem quam impiger, utinam possent monstrare qui maturatum eius interitum lugentes hanc tabulam ponendam curaverunt.

Natus XXVIII Mai. MDCCCL
Mortuus XIX Dec. MDCCCCVI

in Insula Grandi Canaria ibidemque est sepultus.

Let us keep fresh the pious memory of Frederic William Maitland, LL.D., a man as learned as he was agreeable. He was once a Scholar of the College, and later was made Honorary Fellow. He was Professor of the Laws of England in the University. Such was the power of his intellect and his learning that he was able to unearth and elucidate the documents relating to old English Law, of which some were damaged through age and others rendered obscure by insertions and glosses, and the success with which he virtually founded a new area of study by himself and left it clear of difficulties for those who came after him is evident not only from these works but also from the praise of legal scholars around the world.

Would that those who mourn his early death and who arranged for the erection of this brass could convey his character – his charming disposition; his witty eloquence; his delightful company; and his vigour in the face of bad health. He was born on 28th May 1850; he died on 19th December 1906 in Gran Canaria, and is buried there.
Frederic William Maitland

Brass located on the south wall of the Ante-Chapel.
Inscription text by A.W. Verrall.

Click on the thumbnail for a larger image.