Henry Richards Luard
---
1824-91.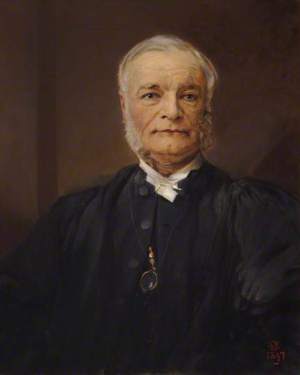 D.D.; historian; Junior Bursar; University administrator; Vicar of Great St Mary's.
Luard was educated at Cheam School, King's College London, and Trinity, where he won a fellowship before entering holy orders. He was for a short time mathematical lecturer, and was Junior Bursar for nine years. He also held an honorary fellowship at King's College London from 1875. He graduated in Mathematics, but was also a good classical scholar, with a particular interest in the works of eighteenth-century critics including Porson. He served as Registrary of the University, worked on cataloguing the manuscripts in the University Library, and edited a long series of works for the Master of the Rolls.
He served as Vicar of Great St Mary's from 1860 to 1887; during his incumbency he undertook a major restoration of the church, in the process removing the 'Golgotha' east gallery, which had formerly been occupied by the Vice-Chanceller and Heads of Houses.
In addition to his university duties, Luard edited for the Master of the Rolls series a long list of works, upon which his reputation as a historian chiefly rests. He also contributed articles to the Dictionary of National Biography.
Memorial inscription
Translation

M.S.

HENRICUS RICHARDS LUARD, S.T.P.

HUIUS COLLEGII SOCIUS IDEMQUE IN TESTAMENTO BENEFACTOR, REGISTRARIUS ACADEMIAE,
ECCLESIAE S.MARIAE MAIORIS DIU VICARIUS,
VIXIT ANNOS LXV DECESSIT ANNO MODCCCOXCOIO
IPSO DIE SS.PHILIPPI ET IACOBI.
ERAT IN RE LITTERARIA EXPLORATOR
CURIOSUS ACER INDEFESSUS,
ANNALIUM CUSTOS ORDINATOR EDITOR INSIGNIS.
SPECIMEN HOSPITALITATIS AMICITIAE VERA EFFIGIES SIBI SOLI MORIENDO NON DISPLICUIT.
IUXTA UXOREM, SINE QUA VIVERE NEC VOLUIT NEC POTUIT, IN COEMETERIO S.AEGIDII REQUIESCIT:
CUIUS ANIMAE PROPITIETUR DEUS.

Sacred to the memory of Henry Richards Luard, D.D., Fellow, and by his will benefactor, of the College and Registrary of the University, and for a long time Vicar of Great St Mary's Church. He lived sixty-five years and died in 1891 on the feast-day of St Philip and St James. He was a diligent, keen and untiring explorer of literature and a remarkable guardian, cataloguer and editor of the university records. He was a model of hospitality and a true image of friendship; his death saddened all but himself. He rests in St Giles's cemetery next to his wife, without whom he was neither willing nor able to live. May God have mercy on his soul.
Henry Richards Luard

Brass located on the north wall of the Ante-Chapel.
Inscription text by F.J.H.Jenkinson.

Click on the thumbnail for a larger image.