Tressilian Charles Nicholas
---
1887-1989. Geologist and Senior Bursar.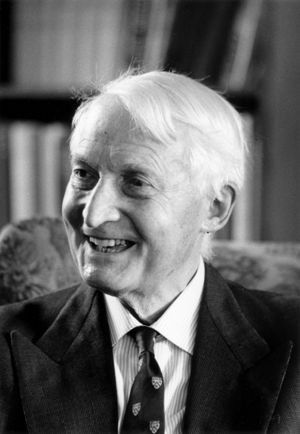 Nicholas was a student at Trinity, and became the College's first research fellow in Geology.
His first project, remapping the geology of the Llyn peninsula in North Wales with a party of Trinity undergraduates, was interrupted by the outbreak of war in 1914.
He was trained at the war office to take up the post of map officer as soon as the Second Army HQ was formed in France. However, he was first diverted to join the assembled expedition to the Dardanelles, serving as a subaltern with the Royal Engineers and subsequently working as part of a Field Survey Unit on the Western Front. It was during this period that Nicholas met T.E. Lawrence, at that time an archaeologist, who acted as a liaison with the survey of Egypt.
During the Dardanelles campaign Nicholas, based at Army HQ on the island of Imbros, was able to utilize captured Turkish sets of many sheets covering the Gallipoli peninsula and Asiatic shore of the Dardanelles, including the site of Troy. The subsequent Sulva landing was a failure as troops had little or no previous battle experience.
In an article in the Journal of the Gallipoli Association, Nicholas recalls persuading Leo Amery, who was about to return to England as King's messenger after a hazardous escape from Bulgaria, to carry back in the diplomatic bag a large fossilised tooth of a mastodon which he had dug out of a cliff, but never expected to get back to the Sedgwick Museum.
He was awarded the Lyell Fund by the Geological Society in 1917. Nicholas was demobbed in 1919 at Crystal Palace as a Major.
A popular and successful Senior Bursar, who along with John Bradfield was responsible for Trinity's purchase of Felixstowe Docks, Nicholas is commemorated on an unusual stone among the cobbles outside the Great Gate, which is inscribed with the letters TCN. A mulberry tree was planted in Duff's Garden to honour his hundredth birthday.
Memorial inscription
Translation

Tressilian Charles Nicholas

annos lxxvi socius

nomen apud geologos peritorum consensu conspicuum adepturus ad uitae cursum uix minus scopulosum digressus est. Nempe thesaurii senioris officio xxvii annos feliciter functus rem nostram per belli temporumque alioqui ancipitium casus tam prudenter gubernabat ut non modo intactam tueretur sed multo quam acceperat ampliorem redderet. Idem prouecta senectute adhuc uigens et omnibus dilectus uita tandem decessit a.s. mcmlxxxix aetatis suae cii.

Tressilian Charles Nicholas, a Fellow for seventy-six years, would in the opinion of experts have become a geologist of distinction had he not moved to a career scarcely less stony, the office of Senior Bursar. This he held successfully for twenty-seven years, guiding the funds of the College through the vicissitudes of war and depression so prudently that he not only kept them safe, but even made them much greater than the amount with which he had begun. In advanced old age he remained active, and was loved by all. He died at last in his one hundred and second year.
Tressilian Charles Nicholas

Brass located on the north wall of the Ante-Chapel.
Inscription text by Neil Hopkinson / E.J. Kenney.

Click on the thumbnail for a larger image.