Reynold Alleyne Nicholson
---
1868-1945. Professor of Arabic.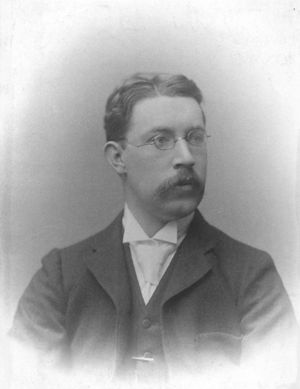 R.A. Nicholson was a scholar of both Islamic literature and Islamic mysticism, and widely regarded as one of the greatest scholars and translators of Rumi, the 13th-century Persian Sufi mystic.
Nicholson was born in Yorkshire and educated at Aberdeen and Cambridge. He became a lecturer in the Persian language (1902-26) and Sir Thomas Adams's Professor of Arabic at Cambridge (1926-1933). He is considered to have been a leading scholar in Islamic literature and Islamic mysticism who exercised a lasting influence on Islamic studies.
His most influential books were the Literary History of The Arabs (1907), The Mystics of Islam (1914), and his exhaustive eight-volume work on Rumi's Masnavi. He also translated Muhammad Iqbal's first philosophical Persian poetry book Asrar-i-Khudi into English as The Secrets of the Self.
Memorial inscription
Translation

REYNOLD ALLEYNE NICHOLSON

LINGVAE PERSICAE PER XXIV ANNOS LECTOR ARABICAE PER VII PROFESSOR PARITER IN VTRAQVE DISCIPLINA ERVDITVS CARMINVM MYSTICORVM INTERPRES EMINEBAT VNICVS
VIR COMIS ET MODESTVS COLLEGII BIS SOCIVS
MORTEM OBIIT A.S.MDCCCCXLV SVAE LXXVII



Reynold Alleyne Nicholson, University Lecturer in Persian for twenty-four years and Professor of Arabic for seven years, was equally learned in both disciplines. He was pre-eminent as an expositor of the poetry of the Mystics. An affable and modest man, he was twice Fellow of the College. He died in 1945 at the age of seventy-six.
Reynold Alleyne Nicholson

Brass located on the south wall of the Ante-Chapel.
Inscription text by Donald Struan Robertson.

Click on the thumbnail for a larger image.