Joseph Prior
---
1832-1918. Tutor, formerly at Sidney Sussex College.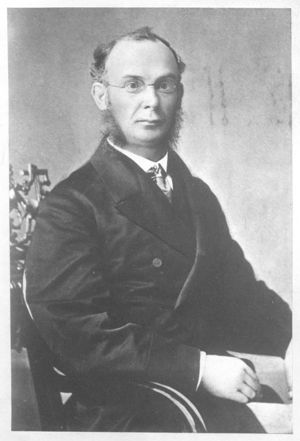 Memorial inscription
Translation

HOC TITVLO MEMORIAE TRADITVR

IOSEPHVS PRIOR A.M.

HVIVS COLLEGII PER LVIII ANNOS SOCIVS PER XVI TVTOR PER XXVIII INTER COLLEGAS AETATE MAXIMVS
APERTI PECTORIS ET COMIS INGENII HOMO
LEPORVM FONS IVGIS AC PROFLVENS
SENEX IVVENIBVS ACCEPTVS
ET QVOVIS IVVENE HILARIOR QVEM SOCII SERMOCINANTEM DILIGEBANT TACITVM DESIDERANT
OBIIT A.D.XVII KAL.NOV. MDCCCCXVIII
ANNOS NATVS LXXXIV

This inscription commemorates Joseph Prior, M.A., who was Fellow of the College for fifty-eight years, Tutor for sixteen years, and for twenty-eight years Senior Fellow. An open-hearted and kindly man, he was a continual and abundant source of wit; as an old man he was popular with the young and more light-hearted than any of them. The Fellows enjoyed his conversation while he lived and miss it now that it is silenced. He died on 16th October 1918 at the age of eighty-four.
Joseph Prior

Brass located on the south wall of the Ante-Chapel.
Inscription text by A.E. Housman.

Click on the thumbnail for a larger image.