Mark Gillachrist Marlborough Pryor
---
1919-70. Zoologist, Entomologist; Senior Tutor.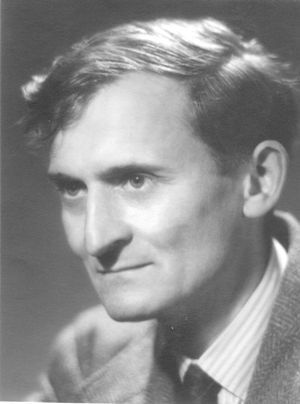 Pryor was educated at Eton and Trinity, and worked as a research student under A.D. Imms. His wife Sophie Raverat was a great-grand-daughter of Charles Darwin.
Pryor was elected a Fellow of Trinity in 1939. Before the war, he published papers on barnacles and on the hardening of oothecae and cuticles in insects. During the war Pryor worked at the Timber and Adhesives Division of the Royal Aircraft Establishment, RAE Farnborough, where he applied his entomological knowledge to the development of aircraft glue, alongside Norman de Bruyne. After the war, de Bruyne continued commercial production of glues, but Pryor returned to Cambridge, where he continued his research.
Pryor became a Tutor at Trinity in 1955, and was later Senior Tutor until 1964.
Mark and Sophie Pryor were involved in a road traffic accident in 1967, in which she was relatively unharmed but which left him with brain damage in a persistent vegetative state for almost three years until his death, aged 51.
Memorial inscription
Translation

MARK GILLACHRIST MARLBOROUGH PRYOR

COLLEGII SOCIVS LECTOR TVTOR
ANIMALIVM HISTORIA PRAESERTIM INSECTORVM DOCTVS IDEM IN REBVS ADMINISTRANDIS PERACVTVS ET PRVDENS INGENII SVBTILITATEM BENEVOLENTIA ANIMI TEMPERABAT SERMONEM ACETO ITA CONDIEBAT VT SVAVITAS NVNQVAM DEFECERIT SIMVLATIONIS IRRISOR HILARITATIS AVCTOR
OBIIT ANNO SALVTIS MCMLXX AETATIS SVAE LVI
AMICORVM QVOS SIBI PLVRIMOS DEVINXERAT IN MEMORIA VICTVRVS

Mark Gillachrist Marlborough Pryor was Fellow, Lecturer and Tutor of the College, and an expert in the study of living creatures, especially insects. In administrative tasks he was incisive and thoughtful; the sharpness of his mind was balanced by kindness of heart. His acid wit did not detract from the sweetness of his conversation: he mocked pomposity and increased gaiety. He died in 1970 at the age of fifty-five [sic]. He will always remain in the memory of the very many people whom he made his friends.
Mark Gillachrist Marlborough Pryor

Brass located on the north wall of the Ante-Chapel.
Inscription text by W. Hamilton.

Click on the thumbnail for a larger image.