Sir Dennis Holme Robertson, FBA
---
1890-1963.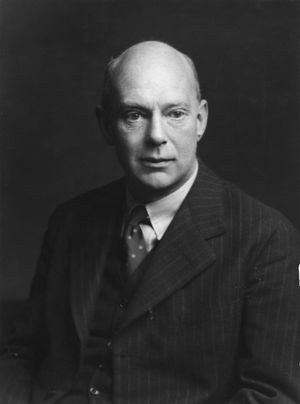 Professor of Political Economy; advisor to the Treasury.
Robertson grew up the son of a poor country parson, at Whittlesford near Cambridge. The experience left him with an abiding fear of poverty, together with a reputation for economy in his scale of hospitality. He was educated at home until the age of twelve but then won a scholarship to Eton, where he flourished, winning many prizes, including the Newcastle prize for classics, as well as writing verse, editing the Eton College Chronicle, and rising to become the captain of the school.

In 1908 Robertson won a major scholarship in classics to Trinity College, Cambridge, where he pursued a dazzlingly successful undergraduate career. He gained a high first in Classics in 1910 and then read for part two of the Economics tripos, in which he achieved another first. Along the way he was awarded both the Porson and the Craven scholarships as well as winning the Chancellor's Medal for English verse three times; he was also president of the Union Society, the Liberal Club, and the Amateur Dramatic Club. He was an accomplished actor and retained a lifelong interest in the amateur stage. Research at Cambridge on the causes of the trade cycle followed. This brought him the Cobden prize in 1913 and a fellowship of Trinity the following year. His dissertation was published as A Study of Industrial Fluctuation (1915), a classic text that laid the foundations for all his subsequent work in the field.

Robertson had trained with the university cavalry squadron and though opposed to the war he joined up immediately in August 1914. He served as a transport officer with the territorials in Egypt and Palestine and in the occupation of Constantinople. For his gallantry in maintaining vital supplies to the front line in the first battle of Gaza in 1917 he was awarded the military cross.

Robertson returned to Cambridge in 1919 and apart from five years (1939-44) at London University and in the Treasury, spent his professional life there. He was a fellow of Trinity from 1914 to 1938 and again from 1944 to 1963, and successively university lecturer (1924), Girdlers' lecturer (1928), and reader in economics (1930); in 1944 he became Professor of Political Economy, and held the chair until his retirement in 1957. In 1926-7 he obtained leave of absence to undertake an eight-month tour of Asia and the Far East, travelling out via Russia and the Trans-Siberian Railway and returning by way of India and Egypt. He was elected to the exclusive Cambridge Apostles in 1926. During the 1920s he was among the admirers of George 'Dadie' Rylands; he never married.

For much of the 1920s Robertson worked in close collaboration with J.M. Keynes (he had been Keynes's pupil as an undergraduate and his postgraduate supervisee), and it was Robertson who was in some ways the more innovative in striking out on new lines of development. But during the 1930s, differences arose between them, centring on the nature of saving, and the two men were never reconciled.

In January 1939 Robertson took up the Sir Ernest Cassel chair (of money and banking) at the London School of Economics. Within a year, however, Britain was at war and from the end of August 1939 Robertson was seconded to the Treasury as economic adviser to Sir Frederick Phillips, initially helping to manage the balance of payments.
Robertson rapidly established an international reputation as an economist. He published prolifically and was always in demand as a lecturer and book reviewer. He stood on several important government committees and between 1936 and 1938 he was adviser to the financial section of the League of Nations.

He made contributions in several areas of economics but chiefly to the study of the relationship between money, the trade cycle, and economic growth. He was known as a literary economist. Much of his writing is witty, elegant, and charming and he peppered his books and essays with literary allusions and quotations, especially from Lewis Carroll's 'Alice' books, which became a characteristic feature. It was an approach partly dictated by his lack of facility in mathematics and his aversion to statistical modelling of economic phenomena but also because he found economics aesthetically arid. It won him many faithful admirers but repelled many others and in some quarters led to his capacities being underestimated.

Robertson became a Fellow of the British Academy (1932), CMG (1944), fellow of Eton College (1948-57), president of the Royal Economic Society (1948-50), and was knighted in 1953. Honorary degrees were conferred by the universities of London, Manchester, Durham, Sheffield, Harvard, Columbia, Amsterdam, and Louvain.


Memorial inscription
Translation

DENNIS HOLME ROBERTSON EQ. AVR.

huius collegii socius et lector, scientiae oeconomicae
olim Londinii postea apud nos professor, locos
obscurissimos mira sollertia mira elegantia inlustrauit.
Nempe tali fuit in his studiis auctoritate ut aerarii
publici praefectorum consiliis tam in bello quam in pace
adhiberetur. Idem nec poeta neque histrio spernendus
collegas discipulosque lepore atque argutiis delectauit,
eximia suauitate modestia humanitate sibi deuinxit.
Hac sane anima nullam tulit terra candidiorem.
Obiit A.S.MCMLXIII aetatis suae LXXIII

Sir Dennis Holme Robertson, Fellow and Lecturer of the College, was Professor of Economics at London University and later at Cambridge. He shed light on the most obsure areas of economics with wonderful skill and elegance; indeed, such was his prestige in the field that his advice was sought by Treasury Ministers in both war and peace. Nor should his talent as a poet and actor be forgotten; he delighted colleagues and students with his wit and pleasantries, and kept their friendship by his extraordinary charm, modesty and kindness. Truly there was no better-natured soul in the world. He died in 1963 at the age of seventy-two.
Dennis Holme Robertson

Brass located on the north wall of the Ante-Chapel.
Inscription text by J.R.M. Butler.

Click on the thumbnail for a larger image.