Ernest Rutherford, OM, FRS
---
1871-1937. Physicist; "the father of nuclear physics".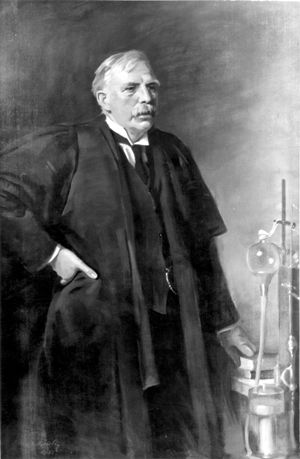 Ernest Rutherford, 1st Baron Rutherford of Nelson OM, FRS was born and educated in New Zealand. He did postgraduate research at the Cavendish Laboratory and briefly held the world record for the distance over which electromagnetic waves could be detected.
In early work at McGill University in Canada he discovered the concept of radioactive half-life, proved that radioactivity involved the transmutation of one chemical element to another, and also differentiated and named alpha and beta radiation, proving that the former was essentially helium ions. He was awarded the Nobel Prize in Chemistry in 1908 "for his investigations into the disintegration of the elements, and the chemistry of radioactive substances".
Rutherford performed his most famous work after moving to the Victoria University of Manchester in 1907 and was already a Nobel laureate. In 1911, he posited that atoms have their positive charge concentrated in a very small nucleus, and thereby pioneered the Rutherford model of the atom, through his discovery and interpretation of Rutherford scattering in his gold foil experiment. He is widely credited with first "splitting the atom" in 1917 in a nuclear reaction between nitrogen and alpha particles, in which he also discovered (and named) the proton. This led to the first experiment to split the nucleus in a fully controlled manner, performed by two students working under his direction, John Cockcroft and Ernest Walton, in 1932.
He returned to Cambridge in 1919 as Director of the Cavendish, and became a Fellow of Trinity. His daughter married Ralph Fowler. He is buried near Newton's tomb in Westminster Abbey. The chemical element rutherfordium (element 104) was named after him in 1997.
Memorial inscription
Translation

ERNESTVS RVTHERFORD BARO DE NELSON

PER XVIII ANNOS PHYSICAE PROFESSOR
ET LABORATORII CAVENDISHIANI RECTOR
QVI PRAETER AEQVALES OMNES
CVM IPSE SVO VSVS INGENIO TVM ALIOS EXCITANDO
SECRETA NATVRAE ILLVSTRAVIT
IDEM SOCIVS HVIVS COLLEGII
VARII SERMONIS VI COPIA FACILITATE
AMICOS DELECTABAT ET REFICIEBAT
DECESSIT A.S.MDCCCCXXXVII AETATIS SVAE LXVII




Ernest, Lord Rutherford of Nelson, was Professor of Physics for eighteen years and Director of the Cavendish Laboratory. He did more than any of his contemporaries to shed light on the secrets of nature both by his own intelligence and by his encouragement of others. As a Fellow of the College he used to delight and refresh his friends by his forceful, eloquent and fluent conversation on a great variety of topics. He died in 1937 at the age of sixty-six.
Ernest Rutherford

Brass located on the north wall of the Ante-Chapel.
Inscription text by Francis Henry Sandbach.

Click on the thumbnail for a larger image.