Ralph Howard Fowler
---
1889-1944. Professor of Applied Mathematics and Stoker Lecturer.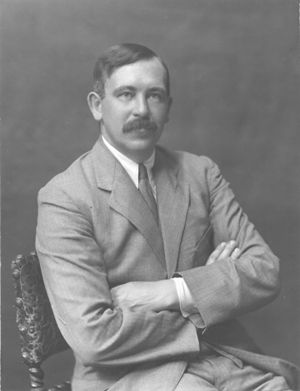 Fowler was educated at Winchester College and Trinity, where he read mathematics, becoming a wrangler in Part II.
In the First World War he obtained a commission in the Royal Marine Artillery and was seriously wounded in his shoulder in the Gallipoli campaign. The wound caused him to be introduced to Archibald Hill, who brought Fowler's abilities to the realm of physics. He worked as Hill's second in command working with the Experimental Department of HMS Excellent on Whale Island and made a major contribution on the aerodynamics of spinning shells, for which he was awarded the OBE in 1918.
In 1919 Fowler returned to Trinity and was appointed College Lecturer in Mathematics in 1920. Here he worked on thermodynamics and statistical mechanics, bringing a new approach to physical chemistry. With Arthur Milne he wrote a seminal work on stellar spectra, temperatures, and pressures. In 1925 he was made a Fellow of the Royal Society. In 1926 he worked with Paul Dirac on the statistical mechanics of white dwarf stars. In 1928 he published (with Lothar Nordheim) a seminal paper that explained the physical phenomenon now known as field electron emission, and helped to establish the validity of modern electron band theory. In 1931, he was the first to formulate and label the zeroth law of thermodynamics. In 1932 he was elected to the Chair of Theoretical Physics at the Cavendish Laboratory.
In 1939, when the Second World War broke out, he resumed his work with the Ordnance Board, despite poor health, and was chosen for scientific liaison with Canada and the United States. He knew America well, having visiting professorships at Princeton and the University of Wisconsin–Madison. For this liaison work he was knighted in 1942. He returned to Britain later in the war and worked for the Ordnance Board and the Admiralty up until a few weeks before his death in 1944.
Fifteen Fellows of the Royal Society and three Nobel Laureates (Subrahmanyan Chandrasekhar, Dirac, and Sir Nevill Mott) were supervised by Fowler between 1922 and 1939. In addition to Milne, he worked with Sir Arthur Eddington, Chandrasekhar, Dirac and Sir William McCrea. It was Fowler who introduced Dirac to quantum theory in 1923. Fowler also put Dirac and Werner Heisenberg in touch with each other through Niels Bohr.
Fowler was a keen amateur cricketer who played as a wicket-keeper. He twice played for Norfolk in the Minor Counties Championship. He was married to the daughter of Ernest Rutherford.
Memorial inscription
Translation

RALPH HOWARD FOWLER

COLLEGII PER XXX ANNOS SOCIVS DISCIPLINAE PHYSICAE THEORETICAE PER XII ANNOS PROFESSOR PLVMMERIANVS ERNESTI RVTHERFORD DISCIPVLVS ET GENER VIR ET CORPORIS ET INGENII ROBORE PRAECELLENS MILES IN PRIORE BELLO STRENVVS
IN ALTERO MORBO INSANABILI IAM AFFECTVS
PATRIAE TAMEN SALVTI PRO RARA SCIENTIAE EXPERIENTIA VLTRA MEMBRORVM VIRES DESERVIENS
MORTEM VICTORIA NONDVM PARTA IMPAVIDVS OBIIT
A.S.MDCCCCXLIV AETATIS SVAE LVI



Ralph Howard Fowler was Fellow of the College for thirty years and Plummer Professor of Theoretical Physics for twelve years. He was both pupil and son-in-law of Ernest Rutherford. Remarkable for his strength of mind and body, he was an active soldier in the First World War; in the Second, though afflicted by an incurable disease, he exceeded his bodily strength in employing his unique scientific skill for the salvation of his country, and died fearlessly in 1944, before victory had been won, at the age of fifty-five.
Ralph Howard Fowler

Brass located on the north wall of the Ante-Chapel.
Memorial text by Robert Mantle Rattenbury.

Click on the thumbnail for a larger image.